Apple's Newest Product Introduction: Its Quarterly Earnings Report
by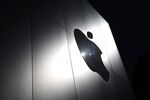 Recently it seems like the biggest milestones for Apple aren't product introductions but days like today, when it posted its second-quarter earnings report. The company announced another remarkable haul in the form of $43.6 billion in revenue and $9.5 billion in net profit, once again demonstrating an alchemical ability to turn iPhones, iPads, and iMacs into money.
Apple pledged to return $55 billion in additional cash to shareholders in order to increase the size of its share-repurchase program and to raise its quarterly dividend by 15 percent. The stock buyback will apparently be the largest in history. In an unorthodox move that reflects relatively low interest rates vs. the high tax rate on bringing cash from overseas accounts back to the U.S., Apple also said it would begin to borrow money to fund these programs.
Investors applauded all this—for a little while. The stock went up about 5 percent in after-hours trading, then drifted back down to about even with the closing price.
Still, though, what gives? Apple's quarterly earnings report now draws a level of scrutiny previously enjoyed only by sporting events and royal weddings. Can't we go back to that more innocent, carefree time when Apple Moments were mostly feverish rumors and slick product introductions? Do you remember where you were when Apple announced its first dividend? I was in Times Square with the other revelers. … Just kidding. Of course you don't.
One of the new talents required of corporate CEOs is to be able to redirect all this attention, from the stock price to the products. Steve Jobs could do this. It's why Jeff Bezos, chief executive officer of Amazon, wrote in his latest shareholder report: "We don't celebrate a 10% increase in the stock price like we celebrate excellent customer experience. We aren't 10% smarter when that happens and conversely aren't 10% dumber when the stock goes the other way."
Apple CEO Tim Cook hasn't quite been able to change the conversation and focus attention in the same way. The Wall Street Journal recently suggested Apple was having an identity crisis and that investors didn't know whether to value it as a pure hardware company or as some kind of hybrid. There was even this detached-from-reality post on Forbes.com wondering whether it was time for Cook to step aside. As usual the Onion said it best, amid the steep decline in Apple stock: "Weeping Tim Cook Spotted Screaming For Help At Steve Jobs' Tombstone."
For those interested in wading into Apple's particulars, there was plenty to chew on today. While its gross margin, at 37.5 percent, is down from 47.4 percent a year ago, the company hit the lower end of analysts' expectations while selling more iPhones and many more iPads (with a huge assist from the iPad mini) than the same quarter last year. On a conference call today, Cook noted that the company's growth was naturally slowing from the light-speed levels of last year and acknowledged Apple's stock has performed poorly. "The decline in Apple's stock price over the last couple of quarters has been very frustrating to all of us," he said, "but Apple remains very strong, and we will continue to do what we do best."
For the record, Apple's stock price growth remains positive since the start of Cook's tenure. And he did suggest on the conference call that the company has some big moves coming—product introductions, one assumes, not more cash-finagling. "The most important objective for Apple will always be creating innovative products, and that is directly within our control," Cook said. "We've got a lot more surprises in the works."
Before it's here, it's on the Bloomberg Terminal.
LEARN MORE