Old Dog Orbital Is Ready to Give SpaceX a Fight
by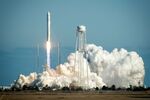 The competitive stakes around commercial space travel were raised in barely 18 minutes on Sunday, as Orbital Sciences conducted a successful test launch of its Antares rocket. The test showed that Orbital could launch a rocket and some cargo into space without a hitch, improving the company's position as it pursues NASA's resupply contract for the International Space Station. Orbital expects to complete a more complex test in the middle of this year in preparation for what could be a three-year, eight-mission, $1.9 billion deal.
For the last year or so, Elon Musk's SpaceX has been NASA's sole means of getting supplies to the ISS. SpaceX completed its test missions and has since conducted a couple of fully fledged resupply trips, while Orbital suffered delays due to technical and launch-site problems. Those delays embarrassed the 30-year-old Orbital, which found itself outmatched by Musk's upstart company. "Orbital used to be the place where the young, risk-taking guys wanted to work," says Keith Cowing, editor of the website NASA Watch. "That's SpaceX now."
During Orbital's test flight, its rocket demonstrated the ability to carry about 8,400 pounds of supplies to the space station, and the company hopes to carry 14,500 pounds per mission in the future. In addition to performing various health checks, the rocket also propelled some payloads into space, including three miniature NASA satellites and a commercial imaging satellite.
Orbital's return as a contender for space station transport places new pressure on SpaceX, although the younger company still has a number of advantages. It's able to return cargo from the ISS back to earth, while Orbital's crafts burn up on their return flights. In addition, Musk's company has better prepared its craft for future NASA contracts by designing them to transport people, as well, while Orbital has focused solely on supplies. "SpaceX has built a lot of the stuff you will want in the future into its spacecraft already," says Cowing. "Orbital isn't really upgradable."
The final frontier, according to Orbital, may include work for other countries, too. "In addition to supporting cargo missions to the ISS, the new Antares rocket will offer other commercial, civil government, and defense and intelligence customers affordable and reliable medium-class launch services for medium-class satellites that do not require the industry's larger, more expensive launch vehicles," the company said in a statement.
Before it's here, it's on the Bloomberg Terminal.
LEARN MORE