MBA Journal: A Just-In-Time Internship
Cathy Mae Favorito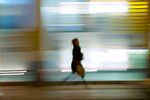 I will be moving to another state to intern in the corporate IT department of a multinational technology and manufacturing corporation in the summer. It was one of the internship offers I landed through the career services job board at University of Notre Dame's Mendoza College of Business.
Since I was not looking for a role in financial services and consulting, and company presentations and career fairs were mostly in the fall, it was a pretty long wait for the spring job listings and interviews to appear. "How late is too late?" a classmate had asked me. "I think not having an internship by February is too late," he had said. You could almost hear the relief from our class as additional postings went up in early January; last year, our career coaches had to keep assuring some of us that it wasn't too late.
For the record, I think that not having an internship by February isn't "too late." In fact, my aforementioned classmate landed his offer in the early days of March. There are still companies out there looking for interns with interviewing dates in late March and early April.
Speaking of interviews, it was the face-to-face style that I preferred most. In one of my phone interviews, the mobile network connection posed a problem. The recruiter, who was strictly adhering to a 30-minute slot, had opened the interview with the line, "So, why do you want to join us?" and I had to repeat my answer four times because the line was choppy. Believe me, by the fourth time, a lot of enthusiasm had already leaked out of my repeated answer due to the frustration on both sides. (This is why it would be wise to use a landline for these crucial calls even in this day and age.)
When it came to Skype interviews, the only problem I had was the eye contact. Sure, it's convenient and practical and saves a lot of time, money, and fuel, but you have to deal with the fact that you have to spend most of the interview staring at your webcam to appear as if you are looking directly at your interviewer. Face-to-face interviews, on the other hand, communicate more about you to the interviewer and let you know more about the company through observation.
Companies have other ways of getting to know their candidates, of course. I was surprised that a lot of companies still flew in potential interns for interviews in company offices, given the mindset that comes with recession. I had several classmates who were even invited to dinner on the day prior to their interviews.
I believe Mendoza prepared us well for the interview season, but the bulk of the internship search and its results were, of course, our personal responsibility. There is only so much our school can do for us careerwise. I know my work background and being an engineer by training helped a lot in garnering this internship. "It would be good for someone of your background if companies see you as an engineer with MBA skills," a second-year former engineer had advised me. And that was very true.
Before it's here, it's on the Bloomberg Terminal.
LEARN MORE