In South African Digital TV Shift, Claims of Love Offers and Graft
by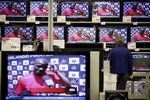 Dina Pule is feeling the love, and she's not happy about it.
South Africa's communication minister says she has been the target of a 10-month "smear campaign" by the Sunday Times , which included a proposal of "love" from a friend of a reporter for the Johannesburg paper. On Monday, Pule said the real reason for the Times' stories is an attempt to influence a TV set-box tender contract worth billions of rand.
South Africa aims to bring digital television to more than 11 million homes by 2016. That means consumers will need to buy a set-top box to receive digital signals instead of today's analog broadcasts.
"The stakes are very high and some unscrupulous individuals are so desperate to secure the set-top-box tender," Pule said in Johannesburg. "They are willing to do anything, including using journalists to smear the minister. Shockingly, they found a willing partner in the Sunday Times."
The newspaper yesterday reported that Pule had helped friends of her boyfriend win appointments to the boards of companies with state ownership.
Pule, who isn't suing the newspaper, responded with her own claims of unethical behavior, by Sunday Times reporter Mzilikazi Wa Afrika. She said the reporter offered to halt negative coverage in exchange for information on President Jacob Zuma at a meeting in a hotel in Johannesburg's Sandton neighborhood. The newspaper's report willfully misled, manipulated facts, and distorted information, Pule said.
"The Sunday Times takes exception to Communications Minister Dina Pule's unusual press conference today in which she accused this newspaper of running a deliberate smear campaign against her, orchestrated by unnamed handlers on behalf of unnamed people," the newspaper said in a statement on its website. "If the minister has evidence that these businessmen were somehow attempting to influence the Sunday Times, please can she name them and their interests in an open forum."
The government plans to subsidize 70 percent of the digital decoder's cost for 5 million TV-owning households. In December, a South African court found that Pule had overstepped her power in deciding who would be allowed to provide the subsidized set-top boxes.
She didn't name the company she thought was behind the newspaper's allegations. But she said they had come from businessmen with close links to the Sunday Times who want to participate in the set-top box tender.
She also said an associate of Wa Afrika made a more intimate approach while she was having her hair done at a Pretoria salon.

"He personally made the proposal to talk to Wa Afrika about the story," she said, and "went as far as to propose love to me."
Before it's here, it's on the Bloomberg Terminal.
LEARN MORE