Hunting for a Post-MBA Job? Set Your Sights on San Jose
by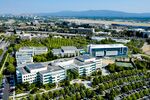 UCLA MBA alumni Steve and Lauren Fusco got engaged in business school and took jobs with Citigroup after graduation. The positions were part of a global rotation program that allowed the pair to stay together, sending them on assignments in Dallas and India before finally settling down in New York.
"We didn't step on each others' toes, and we were both able to pursue our careers at a high level," Steve Fusco says.
But after three years in New York and with a third child on the way, the couple sought a new place to call home. They ultimately ruled out Washington, D.C., and Dallas in favor of San Jose, where they both found jobs at eBay's PayPal. "It was one of the few cities in the country that could accommodate both of our careers," Fusco adds.
It's no secret that the San Francisco Bay Area is an ideal place to locate if you're an MBA hunting for a job. New research prepared for Bloomberg Businessweek, however, shows that among Silicon Valley cities, San Jose stands out.
Burning Glass, an analytics firm that tracks job postings in real time, reports that San Jose has more MBA job postings per capita than any other city in the country. The firm counted 96 postings per 10,000 working-age residents in 2012, "nearly double any other major city," according to the report.
"There's a really nice mix of industries—tech, biotech, banking, public service, and I think all of those really value MBAs," says Carrington Bradley, a graduate of Duke's Fuqua School of Business who met his wife in the MBA program. They, too, both found MBA-caliber jobs in San Jose—he managing sales operations for a semiconductor company, and she managing the city's real estate assets.
Cisco Systems and eBay lead the way in San Jose MBA job postings. MIT's Sloan School of Management listed Cisco as top employer for the class of 2012. And eBay was a top employer at Stanford's Graduate School of Business.
Not surprisingly, MBA job postings in San Jose most frequently seek candidates with product management skills who can assist "tech firms with aggressive product release timelines." Next in demand are MBAs skilled at product marketing. That compares with the overall MBA job market, where accounting and business development are the most sought-after skills listed in job advertisements, according to the Burning Glass report. The firm says that of San Jose's MBA jobs, 36 percent were in manufacturing, 20 percent were in professional, scientific, and technical services, and 15 percent were in IT and communications.
ALthough San Jose's job landscape may now be favorable to those coming out of B-school, that wasn't always the case, says Kim Walesh, the city's director of economic development. "Historically, Silicon Valley didn't value the MBA. It was very much an engineering culture."
Walesh says she saw that change herself as more area companies placed emphasis on design, innovation, and management. Across the city's tech park on North First Street, which houses Cisco, Walesh notes that 8,000 apartments have been built over the past two years to accommodate young professionals moving to the area. "When I think back to the 1990s, MBAs didn't flock here," Walesh says. "There really has been this seismic shift."
Join the discussion on the Bloomberg Businessweek Business School Forum, visit us on Facebook, and follow @BWbschools on Twitter.
Before it's here, it's on the Bloomberg Terminal.
LEARN MORE