How Netflix Can Adjust Pricing (at the Risk of Another Qwikster Panic)
As many as 10 million people mooch off paying users' accounts, an analyst says.
By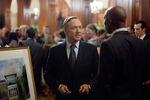 Netflix's most dramatic effort to date to sign up viewers is the slate of original programming that's making its debut on the streaming service this year. Cable-quality series with major Hollywood talent, such as House of Cards, aim to make Netflix a must-watch network, as culturally essential to the modern household as HBO and AMC.
The company's quarterly earnings on Monday was Wall Street's first chance to gauge just how successful the costly strategy has been at luring viewers.
More than revenue or even profit, that's the figure that analysts rifle through Netflix's financial statements to find: the number of domestic U.S. subscribers to the streaming video service. It's the measure that drives Wall Street's opinion of whether Netflix is still the future of video consumption or an aging pioneer in what's become a commodity market, about to be outspent by larger competitors. Any way of goosing the statistic could have a huge effect on Netflix stock. Shares vaulted 64 percent in January when the company announced 2 million new subscribers, more than analysts had expected.
(Update: Netflix shares jumped 18 percent in after-hours trading after announcing 2 million new customers, beating analysts' average forecast.)
(Update 2: The stock has continued to soar April 23, up 25 percent from the previous day's close.)
Ahead of the earnings call, Wedbush Securities analyst Michael Pachter has a suggestion for the company that's simpler than handing hundreds of millions of dollars to Hollywood—and potentially more effective: tightening policies that allow multiple people to share a single Netflix account. As many as 10 million people are mooching off others' streaming plans, Pachter told Bloomberg News. Converting even a small fraction of those to paid accounts could jolt Netflix's performance.
The risk is that pricing is Netflix's third rail. Chief Executive Reed Hastings's hair is still smoking after he toyed with the idea in 2011, introducing changes that raised monthly charges on some subscribers by 60 percent. The company lost 800,000 domestic customers as Hastings announced a spinoff of the DVDs-by-mail service named Qwikster, then cancelled it.
Squeezing new revenue out of the 10 million freeloaders could take a number of forms, Pachter told Bloomberg News. Netflix could charge extra for children's programming or restrict the number of devices that can be tied to each account. Some users would presumably pony up for their own subscriptions; they'd be offset by cancellations if Netflix became portrayed as being user-hostile.
Since Sept. 25, when Netflix hit a 30-month low, shares have gained 216 percent, the most of any stock in the Standard & Poor's 500-stock index. That's more than double the performance of the next-best listing, First Solar.
Wall Street analysts are skeptical that the surge will continue. On average, they expect Netflix shares to fall more than 6 percent over the next year, with just 11 of the 38 analysts tracked by Bloomberg rating the stock a buy. Partly, that's because Netflix rallies have crashed twice before. First, the Qwikster apocalypse in 2011 gutted the stock from nearly $300 to $64. Shares doubled from there, before another selloff that ended in the current upswing. It's been a great drama.
Needham analyst Charlie Wolf wrote in a January report that original programming was unlikely to increase domestic subscribers meaningfully, given that the company has already signed up half of U.S. households. The market is getting more competitive: Amazon, Hulu, and Google are all offering original content of their own, at the same time that legacy media companies are improving their digital game.
"People keep saying, 'Oh, you're going to become like HBO?'" the company's chief content officer, Ted Sarandos, told me a year ago. "I say, 'No, no, no. HBO is going to become like Netflix.' We just have to get really great at original before they get really great at all the stuff that we do."
So far, the programming has been a mixed bag: House of Cards, a political drama starring Kevin Spacey, became the most-watched title on the service after its February debut. Hemlock Grove, a horror series from Eli Roth, has drawn so-so reviews: the New York Times says it has "the occasional flash of wit" but is "so concerned with atmosphere and mood that it barely gets around to telling its story." New episodes of the cancelled cult obsession Arrested Development stream May 26.
Meanwhile, HBO has been souping up its HBO GO service, which streams movies and original series to Apple devices, game consoles, and other gadgets. Game of Thrones fans get extra content when they watch on their iPads. The series is addictive, Jenna Wortham of the Times wrote April 6—thanks in big part to how easy it is to share logins and passwords without paying a dime.
Before it's here, it's on the Bloomberg Terminal.
LEARN MORE