With Boston Locked Down, Small Business Steps Up
by and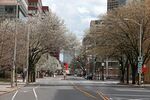 As Boston reels from Monday's Marathon bombings, still on lockdown because of the ongoing manhunt for a suspect, area small businesses have been defying authorities and opening for business, driven by a mix of altruism and necessity. Here are snapshots of a few of them.
Bruce Sabokrooh, the 36-year-old Iranian-born owner of Back Bay flower shop, Fern, and three restaurants, Wise Guys Pasta, Habanero, and Pita, that are based in and around Boston, opened his flower shop on Friday because "can't live in fear" and wants to serve his longtime customers. Speaking on the phone with sirens in the background, Sabokrooh says none of his 40 employees came to work and reported that no one had bought flowers in person today, though a few have called delivery orders in. "I would say one out of every 10 businesses are open," he says. "Even CVS next door to me is closed and the Whole Foods supermarket behind me is closed."
Sabokrooh estimates he'll be out $5,000 for Friday, and he worries he'll lose more if the lockdown continues. "It's not like our bills stop; we have rent to pay, we have electrical, insurance overhead," he says. "The employees lose money, too, cause nobody's on salary—everybody's hourly."
Workbar in downtown Boston is among the many co-working spaces that opened their doors to businesses displaced from the area cordoned off by police after Monday's blasts. Devin Cole, director of special programming and outreach, says the space is open, although Workbar's staff of six stayed home, and he thinks few companies used the space on Friday. (More than a dozen Boston businesses and nonprofits—including Castaway Clothing, Sonicbids, and business accelerator MassChallenge—are donating space to displaced businesses. The City of Boston's website has a list of them here.) Cole, his girlfriend, and his brother were hunkered in their Cambridge apartment. "It seems like everybody I know is just glued to TV, glued to social media, glued to police scanners," he says. "I hope this is over soon."
Gregg Rainville, vice president of sales at MechanicAdvisor.com, made it to work in South Boston from his home in nearby Quincy. But Rainville's five-employee startup had to cancel interviews with job candidates and hasn't been able to get much work done. "It's just being absolutely glued to the TV," he says. The area, in Boston's so-called Innovation District, near the seaport, is about 10 miles from the center of the manhunt in Watertown. Rainville says streets are eerily deserted. "It's basically a ghost town," he says. "You're hearing a lot of sirens." The 31-year-old native of Marshfield, Mass., was at work on Monday when the blasts went off. A friend was injured and hospitalized. "It's just—it's really scary," he says.
At Irving House, a 44-room bed-and-breakfast in Cambridge, many of the roughly 25 employees walked to and from work, including a housekeeper whose walk home takes two hours. Finding transportation before the shutdown and feeding guests has consumed much of the workers' time, says Zoia Krastanova, Irving House's assistant general manager. "Nobody is delivering food, nobody is open," she says. "We normally only serve breakfast, but we have some reserves of food. We have some spinach and goat cheese and olives and tomatoes. We're going to try to create something."
Coffee might be easier to find. Despite Massachusetts Governor Deval Patrick's emergency alert telling businesses to close, Buzzfeed reports that a handful of Dunkin' Donuts shops are open. How did they get around the closure edict? "At the direction of authorities, select Dunkin' Donuts restaurants in the Boston area are open to take care of needs of law enforcement and first responders," a public relations manager writes in an e-mailed statement.
Before it's here, it's on the Bloomberg Terminal.
LEARN MORE