Q&A: The Filmmaker Who Chronicled the Rise of 'Lenny Cooke'
By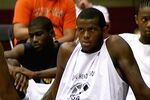 In 2001, Lenny Cooke was the No. 1 high school basketball player in the country, and Adam Shopkorn chronicled his rise. The aspiring New York film director shot more than 100 hours of footage and at one point turned down the chance to cover a second rising star, LeBron James. When Cooke went undrafted and faded into obscurity, Shopkorn never followed through with his film. Years later, he showed the tapes to directors Josh and Benny Safdie, who turned them into Lenny Cooke, which received a standing ovation at this year's Tribeca Film Festival.
Bloomberg Businessweek caught up with Shopkorn after the film's premiere.
Why did you want to follow around a high school athlete?
I was a huge sports fan. This was around the time of MTV Cribs, where you'd follow basketball players into their homes and they'd say, "here's my bathroom, here's my car, here's my trophy room, here's my golf course" and stuff like that. I wanted to find a high school kid and follow him before he got into all that.
Why Lenny Cooke?
Lenny was a star—this guy from Bushwick, Brooklyn, by way of Atlantic City, who had recently moved in with this white family in some leafy suburb of New Jersey. Sort of like The Blind Side Gone Bad. The game came so easy to him. He was this incredible physical specimen. People were writing about him. It was his time to go into the NBA.
You had a chance to film LeBron James, but you choose Cooke.
I spent a lot of time that summer with Maverick Carter. He was a 20-year-old camp counselor at this basketball camp where Lenny was playing. We hung out and he always used to tell me, "Come to Akron and shoot your documentary on my cousin LeBron. We'll take care of you." I'd always say, "That's great but I'm in New York. I've got Lenny."
He wasn't as good?
LeBron was younger. He was a sophomore like Carmelo Anthony. Joakim Noah was around 5'9" that summer. When I saw him again, he was 6'11". These guys were adolescents. Lenny was a young man. He'd filled out and declared himself eligible for the draft.
Do you ever wish you'd spent that summer in Akron?
I sometimes wonder what might have happened if I'd followed LeBron instead. To me, this became a more important story to tell. You always read about the successful people in life. You don't hear about the people whose paths didn't go so well. But that's the way life goes. More dreams don't happen than do.
Why didn't Cooke make the 2002 draft?
I don't know. I'd love to sit down with every scout and every general manager from every single team and ask them, but I didn't. I don't know what they found, but there was some sort of disconnect. Maybe he didn't want it enough. I was pretty shocked. I didn't think he'd been in the first round. I thought his name would be called in the second round. He sat and listened to 57 names. After that, it was over. He became elusive. I couldn't reach him as often. I tried.
How did he react when you revived this years later?
At first he didn't want to go back and relive that whole period.  This was a gradual process. We hadn't stayed in touch. I think he was a little weary of the topic of his NBA potential. He'd gone through a lot. It helped to have [Chicago Bulls center] Joakim Noah involved.
Why did Noah come on as a producer?
Joakim had played with Lenny when they were in high school. He idolizes Lenny. Basketball came very easy to Lenny. Joakim had to work incredibly hard to get to the point he's at. He didn't have the natural grace and talent of Lenny. He's a winner. He's a fighter. He's hungry. He's smart. He'd love to be playing with Lenny on his team. He knows it won't happen.
Do you think of Cooke as a failure?
Losing one thing doesn't make you a failure. That was chapter one. The verdict is out on chapter two. Lenny's now 30. Maybe this film will be a catalyst for the phone to start ringing again. Maybe he'll help people, be a motivational speaker.