Chipotle Upgrades Drink Selection With New Patrón Margarita
By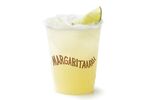 Chipotle is seriously upgrading its wet bar. Starting on April 29 the chain will serve, in addition to its selection of bottled beers, a new type of margarita at its 900 or so restaurants that have liquor licenses. This isn't your ordinary fast-food refreshment, though: Chipotle's new cocktails will be filled with upscale Patrón Silver tequila, which typically retails for more than $40 a bottle. That's right: Your workday lunch-on-the-go just got a little bit classier and a lot more dangerous.
Chipotle already offers a standard margarita, made with Sauza tequila, which will now be relegated as the house margarita and priced at about $5 each. The Patrón drinks will cost customers anywhere from $6.50 to $8, depending on the location. According to Chipotle spokeswoman Danielle Winslow, "the motivator for this new margarita was to make [the old one] taste better."

What does this mean for Chipotle? "Historically, alcohol accounts for a pretty small percentage of sales—between 1 and 2 percent—but we think there may be more interest in this Patrón premium margarita," says Winslow. Based on revenue of $2.73 billion in 2012, that could translate into about $27.3 million to $54.6 million worth of margaritas.
The deal is good for billion-dollar tequila brand Patrón, too. It makes Chipotle one of its top 10 on-premise partners (i.e., bars, restaurants, and hotels). "Nine hundred new points of distribution is very significant for us," says Greg Cohen, a spokesman for Patrón Spirits.
One pressing question remains: How do they taste?
With Bloomberg Businessweek photo editor and amateur tequila aficionado Will Halsey, I set out for Chipotle's test kitchen in New York to try the new drink. In addition to Patrón, it's mixed with agave nectar, lemon and lime juices, and triple sec. (For the record: All of Chipotle's crew will be trained to prepare the drink).
The verdict? It was enjoyable. Although we agreed that the Patrón margarita could have benefited from just one thing: a little more Patrón. "The margarita was refreshingly tart, with a solid balance of lime and agave—the freshness of ingredients really came through," says Halsey. "I would drink one anytime, though likely more than one."
Before it's here, it's on the Bloomberg Terminal.
LEARN MORE