Young Europeans Flock to B-School, but Not for MBAs
Louis Lavelle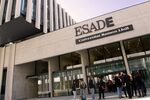 Applicants are seeking graduate business degrees at a younger age in Europe, but it's not an MBA they want. Applications to specialized master's degree programs in everything from marketing to entrepreneurship are on the rise, while applications to MBA programs have begun to slip.
Until a few years ago, most people who applied to business school did so after four or five years in the workforce, at about age 26. Now, younger applicants all over the world are increasingly tossing their hats in the ring, and Europe is no exception. According to the Graduate Management Admission Council, which publishes the GMAT, 53 percent of western European test-takers in 2012 were younger than 25, up from 40 percent in 2008.
The biggest factor driving the change is the Bologna Process, a series of agreements starting in the late 1990s that standardized higher education qualifications among 47 countries. In much of Europe, the result was a shift from a five-year college degree combining a bachelor's and master's degree to two separate degrees. The increase in graduate business applications by younger applicants is, to a great extent, the result of graduates from three-year bachelor's degree programs applying to master's programs, without which many might be unemployable.
Applicants are inundating the programs, called "preexperience" master's degrees to distinguish them from MBAs. According to GMAC, 24 percent of western European citizens taking the GMAT sent their score reports to such programs in 2008; four years later, 46 percent did. In 2012, 20,200 score reports were sent to MBA programs, a decline of about 3,000, or about 14 percent, from 2008. In contrast, scores sent to non-MBA master's programs totaled 18,262 in 2012, an increase of 10,857, or 140 percent, during the same period.
At the same time, the number of specialized master's programs in western Europe doubled. By the end of 2012, according to GMAT data, there were 399, up from 194 five years earlier.
Martin Boehm, dean of programs at IE Business School in Madrid, says the Bologna Accords, which many students initially opposed, are finally being embraced by them. Students see a specialized master's degree as a way to differentiate themselves in a difficult job market, he says. "The way you stick out today is getting a master's degree, ideally from a top institution with a known brand," he says.
At ESADE in Barcelona, which offers master's degrees in management, marketing management, science, and innovation and entrepreneurship, Cristina Olabarría, the director of admissions, says applications rose about 8 percent this year, with an average age among candidates of about 23. She says the specialized degrees serve a very different function from the MBA, and she expects about 30 percent of those who earn a master's degree to return for an MBA. "It helps candidates as they start in the labor market," she says of the specialized degree. "But after three, four, or five years, they are looking for a switch in their career path, and that is what the MBA can provide."
Nunzio Quacquarelli, managing director of QS Quacquarelli Symonds, a London company that organizes the QS MBA World Tour, agrees that MBA candidates are getting older. Two years ago, according to QS survey data, the average age was 27; today it's about 29. "What we believe is happening is that people who were taking master's programs six or seven years ago are now looking at the MBA."
If that's true, the implications for growth are significant. In Germany, where interest in specialized master's programs has exploded, enrollment in the MBA program at the European School of Management & Technology in Berlin grew 30 percent in 2013. Martha Ihlbrock, head of communications and marketing, says it's not unreasonable to expect more interest. "Given the relatively low number of full-time MBA programs in Germany, coupled with the growing attractiveness of the country for MBA applicants, there should be room for further growth in both the MBA and master's programs," she says.
Not everyone believes the pie is getting bigger, particularly for master's degrees in management programs. At INSEAD in Fontainebleau, France, Pejay Belland says someone with a master's of finance, like the one INSEAD started this year, might eventually choose to get an MBA either to advance in his or her current position or change careers. But a master in management is more of an MBA substitute, says Belland, the school's director of marketing, admissions, and financial aid, adding that growth in management degrees might cannibalize the MBA.
"To be perfectly honest, I wouldn't expect someone who's gotten a specialized master's degree in management to come back and get an MBA later on," she says. "I think it's something we need to monitor."
Join the discussion on the Bloomberg Businessweek Business School Forum, visit us on Facebook, and follow @BWbschools on Twitter.
Before it's here, it's on the Bloomberg Terminal.
LEARN MORE