pursuits
Subway Tops McDonald's as No. 1 Worker Lunch Spot
By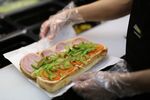 Let's face it: More often than not these days, a working lunch involves footlongs, not oysters and martinis. Between attending meetings and watching late-night reruns of Friends in a midrange hotel, most businesspeople are catching quick meals at fast-food joints, cafeterias, and airports. So much for glamour. Clearly people are not taking full advantage of their expense accounts.
In the first quarter, Subway beat McDonald's as the most popular lunch spot for workers, according to Certify, an expense report management software company, based on 1.96 million U.S. expense receipts from the first three months of the year. The sandwich chains were followed by Starbucks.
It makes sense, based on the chain's ubiquity: Subway has about 25,870 U.S. restaurants and McDonald's has about 14,160. Despite having more locations, Subway is only now taking the lead. In the full year 2012, Subway ranked second for working lunches after McDonald's, while Starbucks and Panera Bread came in third and fourth, respectively, according to Certify data.
"A lot of people who are traveling Monday through Friday, professional service workers, consultants, have got to grab something on the go and keep on working," says Robert Neveu, chief executive officer of Certify, based in Portland, Me. "People do go out for the big meals, but when you look at the vast volume of transactions, unfortunately it's fast food in America."
Certify identifies the top 10 lunch spots* for business travelers. Based on the average bill, some restaurants, like Panera and Chick-Fil-A, are more popular for group meals than others.
1. Subway (average bill: $10.79)
2. McDonald's ($7.16)
3. Starbucks ($8.09)
4. HMS Host, i.e. airport or convention center ($14.57)
5. Panera Bread ($38.66)
6. Culinart, i.e. office cafeteria ($9.50)
7. Wendy's ($8.33)
8. Burger King ($15.51)
9. Chick-Fil-A ($24.25)
10. Chili's ($26.69)
*Based on Certify data from January through March 2013
Before it's here, it's on the Bloomberg Terminal.
LEARN MORE