Riddell Grapples With Football Helmet Woes
By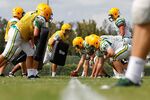 At a time of rising anxiety about the dangers of brain injury in football, plaintiffs' lawyers are bearing down on Riddell as if the country's largest helmet manufacturer were a punt returner bereft of blockers.
On April 11, a Colorado state-court jury found Riddell partly at fault for failing to warn players adequately about the danger of concussions. The jurors assessed damages of $3.1 million against the company after determining that it bore 27 percent of the responsibility for severe injuries suffered in 2008 by a high school player. Lawyers for the plaintiff also named several high school administrators and coaches as defendants in the suit. Several of those individuals agreed to confidential settlements.
The Colorado verdict, which Riddell said it would appeal, comes as the manufacturer faces a far larger legal threat in the form of a mass injury lawsuit filed by more than 4,000 former professional players against the National Football League and Riddell. Making matters more complicated, the private-equity owner of Riddell's parent company has reportedly decided to put the company up for sale.
Litigation over serious injuries in football, an inherently violent sport, has gone on for decades. Suits against Riddell and other helmet makers have led to mixed results, with legal and insurance expenses becoming an unavoidable cost of doing business. Now, though, the question of who's responsible for human collateral damage on the gridiron is coming to a head.
After years of denial, the NFL has conceded that medical research shows a connection between repeated head injuries and degenerative brain disease. The league has agreed to fund new studies on the topic. It has changed a number of rules on such topics as how players may tackle and when they may return to play after a dizzying collision. And the NFL is providing more information to players about the hazards of the game. Similar changes are beginning to take place at the college and high school levels, although not as quickly.
Meanwhile, the lawsuits continue. The former pro players' consolidated action, pending in federal court in Philadelphia, will likely lead to a broad settlement, with the league providing additional money and medical monitoring to ex-athletes. (Have a look at Bloomberg Businessweek's coverage here and here.) The scope of that out-of-court compromise will depend on whether the federal judge overseeing the case classifies it as a labor dispute subject to arbitration (the NFL's contention) or a tort case with the monster potential damages that could accompany findings of negligence and fraud (the players' view).
A ruling on that preliminary issue is expected in coming months, and after that, lawyers for both sides will get down to serious settlement talks. It's not at all clear what portion of the potential liability Riddell might face.
The Colorado case, although a setback for the company, had some encouraging aspects for Riddell. The jury rejected claims of fundamental helmet-design defects. "While disappointed in the jury's decision not to fully exonerate Riddell, we are pleased the jury determined that Riddell's helmet was not defective in any way," the company said in a statement. "We are confident that the jury would have reached a different conclusion had the court not erroneously excluded the testimony of our warnings expert." The relevance of that expert opinion will doubtless be at the core of the company's appeal, and it's entirely possible that Riddell will reach an out-of-court settlement while the appeal is pending.
The desire of Fenway Partners, owner of Riddell's parent, Easton-Bell Sports, to sell the businesses makes a settlement in Colorado more likely. Easton-Bell had $827 million in sales last year and a 5 percent operating margin. While best known for supplying most of the NFL's helmets, as well as outfitting many college and high school teams, Easton-Bell actually gets only 16.5 percent of its revenue from football gear. It also makes cycling components, baseball bats, lacrosse sticks, and hockey skates.
So while Riddell appears exposed in various courts at the moment, if it makes sure in the future to alert consumers that its helmets don't guarantee safety, the company could well find a buyer willing to tolerate short-term litigation risks.
Before it's here, it's on the Bloomberg Terminal.
LEARN MORE