Pepsi to America: Thank You for Snacking
by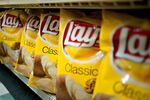 Maybe you've noticed some new Lay's potato chip flavors: Cheesy Garlic Bread, Sriracha (the popular Thai hot sauce), and Chicken & Waffles. I know: chicken and waffles? These are the finalists in a Frito-Lay contest called "Do Us a Flavor." And they help explain the pretty good news that PepsiCo announced on Thursday: In the first quarter of the year, its North American snack business grew 4 percent to $3.1 billion. (At the same, the sales volume of its beverage business in the Americas declined 3 percent.)
Pepsi already sells more salty snacks than any other company in the world. It owns Doritos, Cheetos, Sun Chips, Stacy's, Grandma's, and Rold Gold pretzels, as well as Fritos and many other brands. That's a $22 billion market and Frito-Lay is a $13 billion business. In the past year or so, as Americans have been drinking less sugary sodas and snacking more often, Chief Executive Officer Indra Nooyi has been trying to make sure that more of those snacks come from Frito-Lay. Looks like the marketing efforts are working.
The "Do Us a Flavor" campaign attracted millions of submissions; three were selected by a group of judges that included Eva Longoria of Desperate Housewives fame (she's also a cookbook author and restaurant owner) and celebrity chef Michael Symon. Consumers get to vote for the winner, whose flavor will be added to the Lay's line up. Voting ends on May 4.
That Chicken & Waffles made it to the final round is further evidence of Americans' newly adventurous eating habits. As Frito-Lay's chief marketing officer, Ann Mukherjee, pointed out to Fast Company: "When you bite into a Lay's Chicken & Waffles chip, you will actually taste the maple syrup."
Before it's here, it's on the Bloomberg Terminal.
LEARN MORE