Loews Creates 'Investment Hunter' Comic Book to Tout Its Stock
Lotta Value, private eye, explains a complicated story to ordinary investors
By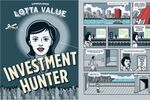 Some companies have a simple story for investors. Ford makes cars. Apple designs and sells iPhones and other devices. Loews, a holding company that insures businesses, operates hotels, and produces energy, has a more complex tale to tell. Last summer, Chief Executive Officer Jim Tisch was talking with designers from Addison, the firm that produces Loews's annual reports, about ways to spread the word about the company when he made an offbeat suggestion: What about a comic? "He was thinking of a way to present the information in an engaging way, as opposed to a 60-page PowerPoint," says Mary Skafidas, vice president for investor and media relations at Loews, who was at the meeting.
After months of work with illustrators and Addison, Loews released The Adventures of Lotta Value, Investment Hunter! on its website on April 11. The 13-page graphic novel opens in the office of private detective Lotta, a female Sam Spade. Her client, Rich Stockman, a middle-aged man in a trench coat, needs help deciding whether to put money in Loews. He tells her the key to the company's success is "tucked away in vaults at each subsidiary."
Lotta boards her plane and flies off to each Loews business. She's no Indiana Jones, but she does encounter a few adventures along the way, parachuting off a building, boarding an oil rig, and rappelling into Loews's headquarters. She also finds time to sun herself by a (Loews) hotel pool. In the process, she learns that the company has five well-run subsidiaries and a management team poised to make the stock more valuable. She also utters dialogue never before heard in a detective story: "This compressor station was part of the HP Storage acquisition, one of two acquisitions for which Loews provided bridge financing."
Loews has long been tough for ordinary investors to get a handle on. When the company was run by Tisch's father, Laurence, and uncle Robert, both now deceased, it made cigarettes, ran movie theaters, and had a controlling stake in broadcaster CBS. Today it owns none of those businesses. Operations include insurer CNA Financial; three energy companies, Diamond Offshore Drilling, HighMount Exploration & Production, and Boardwalk Pipeline Partners; and a chain of luxury hotels. Altogether, Loews had revenue of $14.6 billion last year. Conglomerates like ITT, once the darlings of Wall Street, often trade at a discount to the combined value of their businesses, in part because they're harder to analyze than companies that do just one thing. As Rich Stockman tells Lotta, "Conglomerates are so '70s."
Even without a comic book to make its case, Loews's stock has done pretty well over the years. The shares have returned an average of 16 percent annually in the 50 years through 2012—more than double the return of the Standard & Poor's 500-stock index. Since Tisch, his brother Andrew, and cousin Jonathan took control of the company in 1998, returns have outpaced even those of Warren Buffett's Berkshire Hathaway.
Recent results haven't been as stellar. Loews returned an average of 2.6 percent annually in the five years through March, compared with 5.8 percent for the S&P 500. If the comic book is a hit, it may persuade more individual investors to put money into Loews's stock. Currently, institutional investors own 65 percent of the shares; at Berkshire Hathaway the figure is 21 percent.
Mark Rothwell, an individual investor who looks for stocks he thinks are undervalued for his personal portfolio, may be the kind of person Loews is targeting with the comic. "I'm just sick of reading annual reports," he says. "You don't understand what they're trying to say, or what they're obscuring." He thought Lotta was a good refresher on Loews, a stock he once owned but doesn't now, and says the comic makes him want to trust Tisch's company more.
Corporations are free to use any medium they choose to communicate with their shareholders, as long as the information they convey isn't materially misleading. Loews still releases an annual report and makes regulatory filings. "Lotta's a way to break through the noise and clutter that surround all of us today," Skafidas says. While the Loews comic book is unconventional, it does have some precedent. United Therapeutics, a biotech company, created a graphic novel for investors in 2011 and last year recorded a rock musical to serve as its annual report. The company won't say what it's planning for this year.
How does Lotta Value stack up as art? "Comics are harder, not easier, to do than most things," says Art Spiegelman, a Pulitzer Prize-winning cartoonist and creator of Maus: A Survivor's Tale. "You're really working with a medium that's as dumb as some people think it is, or really brilliant. But really brilliant requires a real understanding, and this doesn't display that." The Loews comic "just looks dead. And the content is about as interesting as reading the ingredients on a processed food label." Skafidas says the company didn't aspire to produce work at Spiegelman's level.
Joseph Grundfest, a professor at Stanford Law School and a former member of the Securities and Exchange Commission, sees Lotta having a benefit beyond Wall Street: Corporate communications could become a new source of funding for the arts. He envisions "a JPMorgan opera reporting on its latest fiscal year, a Facebook poetry slam, an IBM string quartet, or an Herbalife ballet."