In Asia, the Wealth Management Field Favors Women
Some say wealth management plays to feminine strengths
by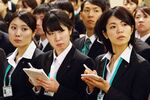 Tan Su Shan felt her first pangs of labor while trading yen for a wealth management client. She took her laptop and phone to a Singapore delivery room and set up a foreign exchange operation lying on her back as doctors administered nitrous oxide. "I was taking gas, calling the client, and trying to go, 'Haaaaah,' " recalls Tan, 45, who then worked for Morgan Stanley and now heads private and consumer banking at DBS Group Holdings. "I don't know whether it was the baby or the exchange rate" causing the heavy breathing, she says.
Tan's heroics are hardly typical, but women are excelling as private bankers managing money for the wealthy in Asia. They outnumber men in the profession by 3 to 2, according to executive recruiting firm Korn/Ferry International. The female-to-male manager ratio in the U.S. is 1 to 4. In Switzerland, the world's largest wealth management center, it's 1 to 9.
Shalini Malkani, an executive recruiter at EMA Partners International, says a growing number of women are in charge of big decisions in family businesses or making money themselves and notes that women are especially perceptive in dealing with couples. "Because women often come across as sensitive and empathetic, even many men would rather speak to a woman about personal wealth matters than to another man," she says.
Some first- or second-generation Asian entrepreneurs, who like to control their own investment decisions, may prefer female bankers because it's easier to treat them as a friend or family member, according to Lim Li Li, a managing director at Bank of Singapore, the private banking unit of Singapore-based Oversea-Chinese Banking. Lim recalls being on vacation in Japan six years ago when she got an urgent call from a wealthy Thai client. She flew to Bangkok at once and went to the industrialist's house for a midnight meeting with 20 family members to help solve a crisis. "People recognize that if you're in private banking in Asia, you need patience, you need to have a listening ear, and therefore it tends to attract women," Lim says. "I think men tend to go for the more macho things like investment banking or corporate banking."
Some Asian clients trust female private bankers more than their male counterparts to educate young family members about wealth planning, Lim says. "After a while they get close to you, so you have the relationship with the next generation as well," she says. "Men tend to be big-picture, and they're not very into details."
Amanda Chen, head of Morgan Stanley's private wealth management unit in Singapore, says she thinks gender is irrelevant to private banking. "If you take care of a client and you really care about the client's well-being, whether it's succession, family, or managing investments," she says, "you can do all that whether you're a man or a woman."
Before it's here, it's on the Bloomberg Terminal.
LEARN MORE