In Alaska, Business Students Face a Tuition Hike
Louis Lavelle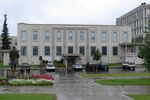 Business students in Alaska have dodged a $3,000 bullet, but maybe not for long.
The School of Management at the University of Alaska, Fairbanks, has proposed a 25-percent tuition hike for upper division and graduate classes starting in the fall 2014, according to the Fairbanks Daily News-Miner. It would add about $3,000 to the cost of degrees in accounting, economics, and business administration and raise $400,000 for the rapidly growing school. The school now has more than 700 students, an increase of 72 percent in the past five years.
At an April 12 meeting in Sitka, the Board of Regents postponed a vote on the proposal until their June 6-7 meeting in Fairbanks.
In a letter to the regents in support of the proposal, the dean of the business school, Mark Herrmann, said the school was in danger of losing its accreditation from the Association to Advance Collegiate Schools of Business (AACSB) unless the tuition increase is approved. The school has had to fill several open-tenure-track faculty positions with lower-cost instructors and adjuncts, reducing the percentage of courses taught by faculty with doctorates to "well under" the standards set by AACSB.
"With current budget purchasing power being reduced by the equivalent of one faculty member per year," he wrote, "the school cannot maintain AACSB accreditation under these conditions."
Herrmann argued that differential tuition—higher costs for certain majors—are common in business schools. Business students, Herrmann wrote, can absorb higher tuition costs because of the higher pay and better job prospects they enjoy.
A study last year found that 143 colleges or universities had some form of differential tuition and that the number has risen every year since 1985, as state budget cuts and skyrocketing enrollment have put many schools in a bind. The burden falls disproportionately on business, engineering, and nursing students.
Join the discussion on the Bloomberg Businessweek Business School Forum, visit us on Facebook, and follow @BWbschools on Twitter.
Before it's here, it's on the Bloomberg Terminal.
LEARN MORE