For Sale in Bklyn: Bridge, Wraparound Vu
by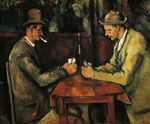 The owner of the Madison Avenue art gallery Helly Nahmad was indicted Tuesday morning for allegedly running a poker ring and laundering money. There is a separate charge that Nahmad defrauded a client by selling him or her a $50,000 painting for $300,000.

The specifics of the charge haven't been released, but it raises questions about the evaluation of commodity objects. When paintings change hands privately and their value is determined exclusively by the people who buy and sell them, who's to say what is fraud and what is shrewd marketing? Look at Cezanne's "Card Players," which recently sold for a staggering $250 million to the Qatari royal family and raised the price for similar Cezannes the world over. Couldn't Nahmad claim to have been doing the same thing?
The answer lies in the buyer's access to, and knowledge of, basic market information. If the last Cezanne sold for $70 million and you decide to pay more than three times that amount, good for you. If, say, you're told a $50,000 painting sold for $300,000 and you decide to buy it for $300,000, that's another matter. Perhaps a matter of due diligence?

Now, could we interest you in a quirky little blog post about Helly Nahmad from the author's early years? Four similar Tarmy paragraphs recently went for $10,0000.
James Tarmy reports on arts and culture for Bloomberg Muse, the arts and leisure section of Bloomberg News.

Before it's here, it's on the Bloomberg Terminal.
LEARN MORE