China Luxury Jet Sales Set to Surge Amid Xi's Austerity Drive
Kyunghee Park and David Fickling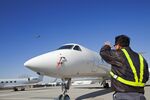 President Xi Jinping's austerity drive is not dissuading Chinese private jet buyers.
Customers may buy about 40 private jets this year in China, compared with 27 ordered in 2012, amid a surge in wealth, said Richard Koe, managing director at Hamburg, Germany-based Wingx Advance Gmbh, a business-aviation data company. General Dynamics Corp.'s Gulfstream is among companies expanding in the country, home to 336 private planes already.
The number of billionaires in China may overtake Germany within the next year, and climb to No. 2 in the world, according to Wealth-X, a Singapore-based company, which collects data on high net worth individuals. Surging demand for planes that could cost about $65 million apiece contrasts with Xi's vow to rein in on extravagant spending.
"There is wealth to support a much larger fleet," said Koe. "The development of infrastructure and economic growth are encouraging demand for private jets in China."
China may become the world's third-biggest private-jet market by as early as 2022, from a rank below 25 now, Koe said in an interview in Singapore April 17. Xi's push against "flamboyant" spending will do little to deter the rising demand in the country, he said.
New Leadership
Xi started the campaign to rein in lavish spending by officials and state-owned companies after becoming Communist Party chief in November. That push is part of efforts by China's new leadership to combat corruption that poses risks to the party's more than six decades in power.
The National People's Congress elected Xi by a vote of 2,952 to one, with three abstentions, for the first of what is expected to be two five-year terms. That means his tenure could last until 2022.
Private jets are the biggest luxury item after arts that wealthy individuals buy globally, according to Mykolas Rambus, chief executive officer of Wealth-X. Business jets cost from about $17.2 million for Bombardier Inc.'s Learjet to about $50 million for Dassault Aviation SA's Falcon 7X and more than $100 million for larger Airbus SAS or Boeing Co. planes outfitted as business jets.
Owning a private jet has become a symbol of wealth for Chinese owners, who tend to pay in cash for their planes, said K.K. Yong, vice president of Jetsolution International Services Ltd., a Hong Kong-based aviation-consulting company. Some wealthy own two aircraft, one for domestic use and the other for international travel, he said.
Jobs, Ellison
As many as 110 Gulfstream private jets are in China and Hong Kong, out of the global fleet of about 2,000, the company said in an e-mail to Bloomberg News. Parent General Dynamics is based in Falls Church, Virginia. Steve Jobs, co-founder of Apple Inc., and Oracle Corp.'s Larry Ellison, were among people who used Gulfstream private jets.
About 23 percent of current global orders are in Asia-Pacific region, according to Anthony Phillips, an external spokesman for Gulfstream at Euro Asia Communications.
The planemaker, which didn't receive approvals to fly its planes in China until 2003 and sold its first large aircraft there in 2008, now has sales offices in Hong Kong and Beijing, Scott Neal, a senior vice president, said in a Feb. 26 interview.
Gulfstream also operates an 82,000 square-foot servicing hangar in the Chinese capital, one of its three outside the U.S.
Minsheng Financial Leasing ordered 20 aircraft worth $810 million last year, while Chinese charter companies Nanshan Jet, AllPoints Jet, and Asia Jet have planes delivered or on order, the company said in a statement in March last year. Deer Jet, owned by Hainan Airlines Co., has more than 40 Gulfstream jets.
Legacy Jets
Brazil's Embraer signed agreement in June to build its Legacy 600/650 executive jets under a partnership with Aviation Industry Corp. of China. The first aircraft from the venture in Harbin is expected to be delivered by the end of this year.
China, with the most number of airports capable of handling private jets in Asia, also plans to ease rules that could encourage more demand for planes, Koe said.
The country, whose airspace is mostly controlled by the People's Liberation Army, may issue rules for its low-altitude airspace management and general aviation airport construction this year, China Securities Journal reported Jan. 18.
"The real struggle about business jets is a proxy for the larger ongoing contest between the Chinese state's security and business interests," James Fallows, author of China Airborne, a book about the country's aviation industry, said by e-mail. "An expansion of the flying market would be a positive sign, because it would mean security interests were stepping back."
Before it's here, it's on the Bloomberg Terminal.
LEARN MORE