Chevron's Lawyers at Gibson Dunn Get Tough in Ecuador Pollution Case
With a $19 billion judgment at stake, Gibson Dunn plays hardball
Paul M. Barrett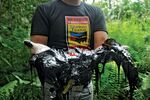 Bit by bit, the largest environmental verdict in history—a $19 billion judgment pending against Chevron for polluting the rainforest in Ecuador—is disintegrating. The collapse threatens to cause collateral damage to a major Washington law firm and a Colorado scientific consultancy that counts state and federal agencies among its clients.
On April 17, the hedge fund Burford Capital, which had invested millions of dollars to bankroll the long-running litigation on behalf of poor farmers and indigenous villagers, leveled accusations of fraud against the lead plaintiffs' lawyer, Steven Donziger, and his allies at the large Washington-based law firm Patton Boggs. Burford renounced any potential profit from the case because of what its chief executive, Christopher Bogart, described in a sworn declaration as "mounting evidence of fraud and misconduct" by Donziger and Patton Boggs. Bogart said his $300 million litigation-finance outfit had been misled about dubious lobbying of Ecuadorean judges and the ghostwriting of expert findings.
Six days earlier, on April 11, Stratus Consulting of Boulder, Colo., disavowed and apologized for its role in the case. The firm, a frequent litigation adviser to public-sector agencies, earlier had provided scientific analysis damaging to Chevron's defense. Now it says that it, too, was misled by Donziger. The New York-based activist had won what he portrayed as a David-vs.-Goliath battle to compensate those living near oil operations in the rainforest in northeastern Ecuador.
Chevron's campaign to obliterate the pollution judgment has been engineered by Gibson, Dunn & Crutcher, a law firm in Los Angeles that the company retained in 2009 when it appeared to face defeat in Ecuador. Fueled by Chevron's copious legal fees, Gibson Dunn shifted the field of legal battle from Ecuador to the United States and the focus from contamination to attorney ethics.
Donziger and Patton Boggs have repeatedly denied any wrongdoing. They vow to continue fighting Chevron and Gibson Dunn. "Patton Boggs is fully confident that it has acted appropriately and ethically," said partner James Tyrrell. Bill Hamilton, a spokesman for the plaintiffs, condemned "Chevron's nonstop big-money attempt to intimidate and malign" his clients and their lawyers. "It has no bearing on what happened in Ecuador." Stratus said it "deeply regrets its involvement in the Ecuador litigation."
Chevron hired Gibson Dunn after the law firm rescued Dole Food from billions of dollars in judgments based on allegations that pesticide used in the 1970s caused harm to banana workers in Nicaragua. Gibson Dunn revealed that some of the plaintiffs never worked for Dole and others were coached to lie. American judges refused to enforce the verdicts. On its website, Gibson Dunn marketed its skill in defending corporations "with more than a series of defensive tactics, but rather an affirmative strategy to ultimately end the litigation."
The Ecuadorean verdict stemmed from operations by Texaco in the 1970s and 1980s. Donziger helped initiate litigation against Texaco in 1993, after Ecuador nationalized its oil industry. Chevron acquired Texaco in 2001.
Leading a team of Ecuadorean attorneys, Donziger argued that wanton pollution endangered the health of thousands of people. Chevron countered that Texaco had fulfilled its contractual duties; that the national oil company, Petroecuador, caused most of the pollution; and that the plaintiffs lacked valid scientific proof of human harm.
A Gibson Dunn squad led by Randy Mastro, a former mob prosecutor, launched an investigation that produced swift results: A scientific expert in Atlanta formerly employed by Donziger admitted in 2010 that his name had been signed to a report filed with the Ecuadorean court which he hadn't written. Donziger conceded during a separate deposition that Stratus had secretly written a report supposedly authored by an independent Ecuadorean expert.
Gibson Dunn won U.S. court orders forcing an American documentary filmmaker to turn over 600 hours of raw footage on the Ecuadorean case, some of which showed Donziger crowing about his use of "pressure, intimidation, and humiliation" to get his way with Ecuadorean judges. In 2011, Gibson Dunn filed a civil racketeering suit against Donziger in federal court in New York. He denied the claims. This year, Mastro has used that suit as a vehicle to introduce sworn testimony and documents Chevron says demonstrate that the $19 billion judgment itself was drafted by the plaintiffs' legal team.
In a terse declaration filed with the New York court, Donziger has denied that he procured a fraudulent judgment. The plaintiffs' attorney added that he is "unaware" whether anyone else did.
BOTTOM LINE -
The bottom line: Lawyers for Chevron in a 20-year-old rainforest pollution suit are using tough tactics to combat big judgments issued by foreign courts.
Before it's here, it's on the Bloomberg Terminal.
LEARN MORE