Carrefour Sales Decline as Weather, Economy Weigh on Demand
Andrew Roberts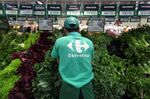 Carrefour SA, France's biggest retailer, reported weaker first-quarter sales as cold weather and slow consumption in Europe weighed on demand in the region.
Revenue from continuing operations fell 1.3 percent to 20.8 billion euros ($27.1 billion), Boulogne-Billancourt, France-based Carrefour said today. Analysts predicted 20.9 billion euros, according to the average of five estimates compiled by Bloomberg. Sales at stores open a year or more advanced 0.2 percent, excluding currency fluctuations and gasoline revenue.
Carrefour, which in the past year has dispensed with assets in five countries, plans to boost capital spending to as much as 2.3 billion euros this year in an effort to win French shoppers with refurbished outlets and a broader multichannel offer. The retailer is also seeking to improve its price perception amid an economic climate that it's said is unlikely to improve in 2013.
The quarterly performance "remained weak," Gildas Aitamer, an analyst at Planet Retail, said today in an e-mailed note, citing more intense price competition in France. Still, "subdued headline figures belie slow underlying improvements."
The shares climbed 0.6 percent to 20.74 euros at 11:28 a.m. in Paris, compared with an increase of 0.9 percent in the the CAC 40 Index. Carrefour's stock has gained 7.2 percent this year, while the CAC 40 is down 0.3 percent.
Food Growth
Revenue at hypermarkets in France open at least a year fell 2.9 percent in the first quarter, excluding gasoline, Carrefour said. Food sales continue to grow, the grocer said. French supermarket sales fell 0.5 percent on the same basis, while convenience and other formats gained 3.6 percent.
The weather in France was "highly unfavorable" in the quarter, Carrefour said. As much as 40 centimeters (16 inches) of snow fell in the northwest of the country last month amid plunging temperatures, according to the Agriculture Ministry.
In the rest of Europe, Carrefour's same-store sales fell 3.8 percent, excluding currency movements and gasoline, led by declines in Italy and Spain. The retailer expects consumption to remain under pressure in the region, Chief Financial Officer Pierre-Jean Sivignon said today on a conference call.
"Carrefour is moving in the right direction in the economically challenged southern European markets," Aitamer said, citing an increased discount offering and the appointment of a new director in Italy.
Strong Brazil
Latin American sales gained 11 percent. Strong sales continue in Brazil in all formats, Carrefour said. A price freeze in Argentina, which has been in place for the last two months, has been extended to the second quarter, Carrefour said.
The foreign-exchange impact on sales in the quarter was a negative 2.6 percent, Carrefour said, largely due to a significant depreciation of the Brazilian real and the Argentine peso over the past year. The real depreciated about 6 percent against the euro in the year to March 2013, according to data compiled by Bloomberg.
In Asia, same-store sales declined 3.9 percent, excluding currency shifts and gasoline.
Analyst estimates of about 2.2 billion euros for full-year recurring operating income are "reasonable," Sivignon said.
Carrefour restated its figures for 2012 after dispensing with assets in Colombia, Malaysia, Indonesia and Greece.
Before it's here, it's on the Bloomberg Terminal.
LEARN MORE