Bloomberg View: Why Germany Should Embrace a Banking Union
Is ­Germany holding up needed reforms to protect Deutsche Bank?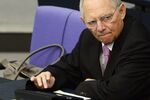 Germany is hitting the brakes on a banking union crucial to the long-term survival of the euro on the grounds that it needs a better legal foundation. That position would be a lot more convincing if Germany were doing more to reduce the threat its largest financial institutions pose to the European economy.