Australia's Two-Speed Economy Tests Gillard's Reelection Bid
The prime minister is losing her Labor base as a strong currency ravages manufacturing
By and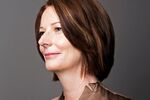 On April 8, General Motors announced it was cutting about 500 jobs from its Holden subsidiary in Australia. The reason, according to Managing Director Mike Devereux, was that the Australian dollar was too strong and the devalued yen and other currencies too weak. Australia's muscular currency makes Holden's GM-designed autos too pricey to compete against increasingly cheap imports. Because its costs are in Australian dollars, "the Holden plant is one of the most, if not the most, expensive plants in the GM system," Devereux told reporters.
The story of Holden is being played out across Australia's industrial regions. That means rising unemployment for factory workers, an even greater reliance on mining ore and coal for export to China, and a heap of trouble for Labor Prime Minister Julia Gillard as she campaigns for reelection. Her party's strongholds are in play because union members who are losing their jobs are not showing their usual enthusiasm for the Labor incumbent. Gillard is 10 points behind Liberal rival Tony Abbott in the polls. Voters in Western Australia, many of whom work in the mines, have aligned with Abbott, who has promised to scrap new taxes on mining profits.
Strong economic growth of 3.6 percent in 2012 has pushed the Aussie dollar to record highs. Since the Lehman Brothers collapse in September 2008, the currency is up 72 percent against the greenback and 82 percent vs. the yen. Policymakers and executives at an April 10 Bloomberg conference in Sydney singled out the local dollar's strength as the biggest challenge for business. The "continued strength of the Australian dollar is just decimating domestic manufacturers that face strong import competition," said Terry Davis, managing director at Coca-Cola Amatil, the brand's local bottler. Robert Mead, head of portfolio management in Sydney at Pimco, said businesses squeezed by the currency are deferring spending.
Gillard describes the strong currency as the "new normal" but points out that the economy is still generating jobs. "We've created 50,000 jobs since the start of this year. We've created 100,000 in the last 12 months. We've created almost 900,000 in the time since we've been in office during the worst global economic circumstances since the Great Depression."
Still, Gillard has failed to generate jobs for her natural constituents in the older cities. In Sydney's industrialized western suburbs, the unemployment rate is as high as 14 percent. According to the polls, the Labor politicians from the area could lose their seats in Parliament. Keith Darley, 34, an electrician, employed 22 people a year ago but had to let them all go as profit margins dwindled. He now works alone and says he'll vote against Gillard on Sept. 14. "When we see a story that Gillard claims the government has created 900,000 jobs, that's not our experience," says Darley, who has voted both for and against Labor in the past.
Gillard also has her hands full with the other Australian economy: the mining fields of Western Australia and Queensland. The robust mining sector has sent boatloads of iron ore, coking coal, copper, and other minerals to China. These exports have helped keep the Aussie dollar strong and driven real estate prices upward. A furnished two-bedroom apartment in Port Hedland, on the northwest coast, rents for $8,155 a month. When they rent such pricey digs for employees, Rio Tinto Group, BHP Billiton, and other mining companies have swallowed the costs, as well as the highest mining wages on earth, because the China trade has been so profitable.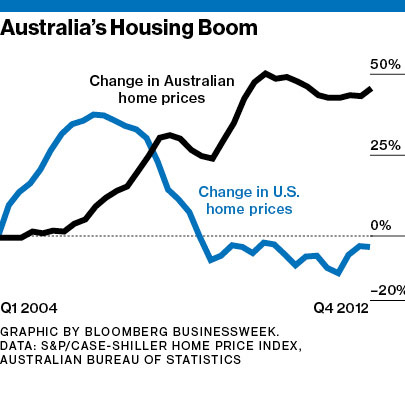 Gillard has tried to woo voters in this rich, sparsely populated part of the country, but she hasn't made much of a dent against Abbott. Whoever wins the prime minister's job has to face the fact that the mining boom won't last forever. BHP Billiton Chief Financial Officer Graham Kerr said at the conference that he expects annual economic growth in China to move toward 6 percent, down from about 9.5 percent during the last decade, and that prospects for BHP's largest customer are the company's biggest business risk. Commodity prices have been slipping for months, and Rio, BHP, and other companies have started to slow down on hiring in Australia's mining fields. The price of iron ore, $139.30 a metric ton on April 17, may reach $80 by 2015, according to Goldman Sachs.
As commodity prices drop, the Aussie dollar usually weakens, boosting profits. It's not clear if the usual pattern with the currency will hold. The central bank has kept rates higher than its developed world counterparts to hold down inflation. Relatively high rates have attracted billions of dollars in foreign investment to Australian government bonds and real estate. A National Australia Bank survey of developers found that foreign buyers of new properties made up about 9 percent of total purchases.
As Australia struggles with the impact of its strong currency, small warning signs continue to crop up. In the March employment report, the jobless number unexpectedly jumped from 5.4 percent to 5.6 percent. The budget remains in deficit as tax revenue slips. Mining companies' earnings have started to fall. Australia is a wealthy, successful country. But it carries within itself contradictions that will be hard to resolve.
— With assistance by Elisabeth Behrmann, and Daniel Petrie
BOTTOM LINE -
The bottom line: A strong Aussie dollar is threatening one of the developed world's strongest economies, offering a new challenge to the next prime minister.
Before it's here, it's on the Bloomberg Terminal.
LEARN MORE