pursuits
Airbus Introduces Extra-Wide Aisle Seats—for a Price
Airbus introduces extra-wide seats, for an extra-wide price
By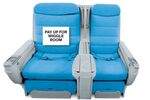 When author Ragen Chastain flew cross-country on United Airlines to give a talk at Dartmouth College last year, she sat in a standard coach aisle seat. At 5-foot-4 and 284 pounds, Chastain couldn't fit comfortably in the Boeing 757's 17-inch-wide seat. "One flight attendant kept slamming into my shoulder—on purpose—every time she went by," she says. Chastain wasn't forced to buy another ticket on that flight, but she knows she may have to next time. "Airline employees look at someone and try to assess whether or not they'll fit," she says, "which can lead to people being embarrassed by ticket agents."
These are hassles that face overweight and tall travelers, as there aren't any regulations in the U.S. for airlines to accommodate them. American, Delta, and US Airways will try to find an extra seat; if one isn't available, the flyer will be bumped to a later flight. On United, flyers who can't fit into a coach seat are required to buy two. It was the same on Southwest, until it wasn't. In 2010, Hollywood director Kevin Smith was removed from a Southwest flight for being too plump for his seat. "You f-‍-‍-ed with the wrong sedentary processed foods eater!" Smith tweeted afterward. (Southwest later rewrote its policy; it no longer charges for an extra seat.) As of April, those traveling internationally on small, Pacific-based carrier Samoa Air have to pay more than their slender seatmates after the airline announced it would charge passengers according to weight. "A kilo is a kilo," explained Chief Executive Officer Chris Langton in a statement.
At April's Aircraft Interiors Expo in Hamburg, Airbus revealed a plan to profit from this problem: It's introducing "extra-wide" seats on its biggest-selling model, the A320. The airplane's economy class, which has 18-inch-wide seats, will be modified: Aisle seats will expand to 20 inches, while middle and window seats will shrink to 17 inches. In other words, Airbus is downsizing most seats to match Boeing's—an "acceptable economy seat width," says Claire Nurcombe, aircraft interiors marketing manager at Airbus—while offering a bigger one for each row that can be purchased at a premium. She says the new seat "could be sold to business travelers, families, older passengers, passengers of size, or offered to their frequent flyers as a reward." Airbus hasn't announced when its new seats will be installed or how much more they'll cost. For its part, Boeing has no plans to widen its coach seats from 17 inches.
The seat expansion will have a real impact on travelers, notably larger women, says Gretchen Gscheidle, the director of insight and innovation at upscale furniture maker Herman Miller. In the late 1990s, Herman Miller was involved in the Civilian American and European Surface Anthropometry Resource Project (Caesar). Funded by a consortium of companies from apparel makers to auto manufacturers, Caesar measured more than 4,000 subjects from the U.S. and Europe—including the Netherlands, where people are the tallest, and Italy, where people are the smallest. According to Caesar's findings, the hip breadth of men in the 95th percentile of the population, i.e., on the very big side, measures 17.6 inches. (Men in the fifth percentile have a hip breadth of 13.1 inches.) So 95 percent of men can fit into a regular 18-inch Airbus seat without a problem. "If you're right exactly at 18 inches, it means you can move around a little," says Gscheidle.
Female flyers aren't so lucky. The hip breadth of women in the 90th percentile is 19.2 inches, and those in the 95th percentile have hips measuring 22.4 inches. "It goes back to the core skeletal system," Gscheidle says. "The female pelvis is much larger than the male pelvis. With the change from 18 inches to 20 inches, about 10 percent of the female population will be additionally accommodated."
The wider, more expensive seats are, of course, another way to generate more revenue per flight. But Chastain's looking forward to buying just one bigger seat instead of two smaller ones. As an overweight flyer, "if I'm being flown out for a job interview," she says, "I have to tell my prospective employer that it's going to cost twice as much to interview me as it is to interview someone smaller than I am." Gscheidle is quick to temper expectations. "At the end of the day, expanding to 20 inches is good for posture and good for comfort," she says. "The seat size relative to shoulder breadth … well, that's a different ballgame."
(
An earlier version of this story ran online.
)
Before it's here, it's on the Bloomberg Terminal.
LEARN MORE