How Three Social Ventures Look Beyond Profits
by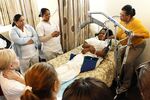 B Lab's "B Corp Best for the World List" recognizes companies that have performed exceptionally on social and environmental measures. The full list has 67 ventures. Here are profiles of three businesses from the Bronx to Brazil creating value beyond their bottom lines.
Cooperative Home Care Associates
New York
Founded 28 years ago, this home care company calls itself the largest worker-owned co-op in the U.S., with a staff of 2,300. CHCA trains people—mostly black and Hispanic women who are unemployed or have never been in the workforce—for jobs assisting elderly or disabled Medicaid patients at home. They're mostly poor residents of the South Bronx and northern Manhattan. Home care is among the fastest-growing occupations in the U.S., and one of the lowest-paid. "The reality here is it's sort of the poor caring for the poor," says Ben Freeman, development director for the Paraprofessional Healthcare Institute, a nonprofit affiliated with the home care provider.
Workers at CHCA get paid time-and-a-half for overtime, a rarity in an industry that's been exempt from that labor law. They also get a chance to build wealth through ownership in the co-op. "It's an industry not necessarily marked for its high-road practices," Freeman says. "We're investing in this population from training on."
CDI Ventures
São Paulo
CDI Ventures turns Internet cafes across Latin America into community centers that can deliver education and financial services to low-income people. The company has partnered with 6,500 Internet cafes, known as LAN houses, where many Brazilians get their Internet access. "In cities or smaller communities out of São Paulo or Rio de Janeiro, it has a huge impact," says Chief Executive Marcel Fukayama.
The company was spun out as a for-profit division of the Center for Digital Inclusion, a Brazilian nonprofit founded in 1995 to ensure Latin America's poor weren't left behind by technology. The 10-employee CDI Ventures, backed by social investment fund Vox Capital, became the first B Corp certified in Brazil last year. "Being a B Corp is about being part of a global movement that is redefining the concept of success of business," Fukayama says.
Emerge Financial Wellness
San Francisco
Think of Emerge as a health and wellness program for employees' wallets. The company helps employers give their workers financial advice and services. The target is the tens of millions of American workers who live paycheck to paycheck and don't have access to mainstream credit, says Jonathan Harrison, CEO of the nine-employee company. Emerge offers help building savings and raising credit scores. It also makes direct loans of up to $2,500 for eight months to help workers steer clear of costly payday lenders. It's made about 1,000 of them so far.
About 175 employers of all sizes use Emerge, with 28,000 employees actively enrolled. Harrison says companies benefit when workers improve their financial health. "People are saying, 'Hey, I've enrolled in your program. I may have gotten a loan. I may have talked to a coach. I have less financial stress in my life,'" he says. "We're proving that there are hard cost savings. It's not just a nice thing to do for your employees."
For a look at the other companies that made the list, visit the B Corp site.
Before it's here, it's on the Bloomberg Terminal.
LEARN MORE