Goldenfreude: Skeptical Advisers Can't Help Gloating
by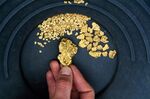 For years, gold's allure grew as the metal's price smashed through record after record. That put many financial advisers in the position of trying to dissuade clients from investing in the stuff. "I see no purpose in gold," says Sheryl Garrett, founder of the Garrett Planning Network. "I would rather own pretty much anything."
Now that gold has plummeted 27 percent from its record, culminating on April 15 in its deepest dive in 30 years, these same advisers are not above a little gloating -- or, as Barry Ritholtz, chief executive officer and director of equity research at FusionIQ, put it in a recent blog post , "goldenfreude." Says John Vento, an accountant and financial planner: "The gold rush is over." Gold's recent drop proves it is a "very risky investment," says Vento, author of the new book, "Financial Independence (Getting to Point X): An Advisor's Guide to Comprehensive Wealth Management."
Commodity Crush
Enthusiasm for gold coincided with increased interest in all commodities. As prices of raw materials such as oil, metals and agricultural products rose, exchange-traded funds (ETFs) made investing in those commodities much easier for retail investors. Even skeptics of gold, such as Garrett, embraced other commodities, citing their ability to diversify a portfolio and protect against inflation. Still, the skeptics generally insisted on keeping commodity exposure to less than 5 percent or 10 percent of a portfolio.
Those who embraced commodities often kept gold to a small slice of their commodity exposure. For example, Austin Poirier, senior investment adviser at Ballentine Partners, uses the Deutsche Bank Liquid Commodities Indices, in which gold is less than 9 percent. For Poirier's clients, then, gold represents less than 9 percent of a 2 percent to 6 percent commodities allocation, or 0.2 percent to 0.5 percent of the total portfolio.
Some advisers, meanwhile, refused to buy into commodities at all. Commodity investing can be expensive and trigger big tax bills, says Mark Balasa, chief investment officer at Balasa Dinverno Foltz LLC. "We don't feel we've missed anything to date," he says.
Off the Bandwagon
Others jumped off the commodities bandwagon when they decided it got too popular. "We saw so much speculation," says Christopher Cordaro, chief executive officer of RegentAtlantic Capital. (Exhibit A: George Soros, who cut holdings in SPDR Gold Trust ETF by 55 percent last quarter.) As many investors traumatized by the stock slides started buying commodities in 2009, Cordaro started selling client holdings, exiting the market entirely by 2010. "Many investment advisers [were] moving toward gold and commodities at exactly the wrong time," he says.
Getting out in 2010 meant that Cordaro's clients missed a 26 percent rise in the in the Dow Jones-UBS Commodity Index from 2010 to its peak in April 2011. It also means they missed the 25 percent slide in the index from April 29, 2011, to April 16 of this year.
A common refrain among advisers is the difficulty of putting a value on gold. The metal "has a value because people say it does," Poirier says, but it has "no intrinsic value." It doesn't pay interest or dividends, and its use as an industrial metal is less than that of copper, silver and other metals. Its reputation as a "safe haven" is also exaggerated, adds Poirier, pointing to gold's drop in the second half of 2008. Balasa notes that even gold's reputation as a hedge against inflation is questionable. "Long term, gold has not kept up with inflation, or maybe just barely," he says.
Gold's Defenders
Gold does have its defenders among professional advisers and money managers. "It can be a good investment, but at the right price," says Hans Olsen, Barclays Wealth & Investment Management's head of investment strategy for the Americas. It's getting more difficult to mine gold -- the cheaper gold has been mined. Central banks still hold a significant amount of their reserves in gold, so it's recognized as "a store of value" over longer time periods, Olsen says.
So is the price right? Now that gold has fallen 13 percent in the past week, Olsen says: "If we're not there, we're pretty close." In other words, depending on one's investing philosophy, gold's plummet is proof that investors should have stayed away -- or a signal that they should buy more.
To contact the editor responsible for this story: Suzanne Woolley at swoolley2@bloomberg.net
Before it's here, it's on the Bloomberg Terminal.
LEARN MORE