Fed Says 'Moderate' Growth Across U.S. Was Led by Housing
Jeff Kearns and Steve Matthews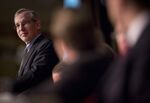 The Federal Reserve said the U.S. economic expansion remained "moderate" amid gains in manufacturing, housing and autos that offset weakness in defense-related industries in some regions.
"Most districts noted increases in manufacturing activity since the previous report," the central bank said today in its Beige Book business survey, which is based on reports from the Fed's 12 regional banks from late February to early April. "Particular strength was seen in industries tied to residential construction and automobiles."
Most regions said "residential and commercial real estate improved markedly" as housing prices rose in many areas and demand for home loans was "steady to slightly up," the Fed said. Consumer spending "grew modestly" even as some regions said sales were curbed by rising gasoline prices, higher payroll taxes and winter weather. "Employment conditions remained unchanged or improved somewhat," the report said.
Several policy makers, including Federal Reserve Bank of New York President William C. Dudley, have said the Fed should maintain record monetary stimulus after an April 5 report showed employers added 88,000 workers in March, the smallest gain in nine months. The Federal Open Market Committee said in March that it will continue buying $85 billion in bonds each month until the labor market "improves substantially."
Renewed Pledge
The panel also repeated its pledge to keep the main interest rate near zero so long as the unemployment rate remains above 6.5 percent and the forecast for inflation doesn't exceed 2.5 percent over one to two years.
The Standard & Poor's 500 Index remained lower after the report, declining 1.4 percent to 1,552.01 in New York amid losses in industrial metals and disappointing earnings results by companies ranging from Bank of America Corp. to Textron Inc. The yield on the benchmark 10-year Treasury fell 0.03 percentage point to 1.7 percent.
Today's Beige Book report showed that growth was "moderate" in five districts, "modest" in another five and accelerated "slightly" in the New York and Dallas districts.
"The tone is slightly more upbeat, which is encouraging as we have had some data suggesting the economy hit a soft patch," said Russell Price, senior economist at Ameriprise Financial Inc. in Detroit. "The regional breakdown tells us the economy is holding up a little better than expected."
March Report
In its last Beige Book report, released on March 6, the Fed said the economy grew at a modest to moderate pace across most of the country amid rising consumer demand for homes and autos.
The anecdotal snapshots from the Fed district banks help the FOMC evaluate the economy prior to its next meeting. Policy makers plan to meet April 30-May 1 in Washington.
While housing and auto sales are bright spots this year, retail sales declined in March amid tax increases and across-the-board federal budget cuts known as sequestration.
Defense industry manufacturers in the San Francisco region reported "furloughs, layoffs, and plant closures at some production facilities," while the Chicago Fed said military customers in its district were cutting costs "in anticipation of tighter future defense budgets."
Economic growth slowed to 0.4 percent in the fourth quarter as military spending plunged the most since the waning days of the Vietnam War four decades ago.
Obama Budget
President Barack Obama sent a $3.8 trillion budget to Congress April 10 calling for more tax revenue and slower growth for Social Security benefits. Administration forecasters cut their estimate for economic growth this year to 2.3 percent, matching last year's rate, down from the projected 2.7 percent in July.
"Continued modest growth right now is most likely," said Josh Feinman, the New York-based global chief economist for DB Advisors, the Deutsche Bank AG asset manager overseeing $228 billion, and a former Fed senior economist in Washington.
Fed officials are debating when to curtail their unprecedented bond buying. Several FOMC members said at their March 19-20 meeting that the Fed should begin tapering its quantitative easing program this year and stop the asset purchases by year end, meeting minutes released April 10 showed.
FOMC members "thought that if the outlook for labor-market conditions improved as anticipated, it would probably be appropriate to slow purchases later in the year and to stop them by year-end," according to the record of the gathering.
Job Growth
That was before a Labor Department report showing the pace of job growth in March fell from 268,000 a month before. The unemployment rate slid to a four-year low of 7.6 percent as the workforce participation rate slumped to 63.3 percent, the lowest since 1979.
Fed policy has helped shore up demand. Cars sold at an average 15.3 million annualized rate in the first quarter, the most since the same period in 2008, according to Ward's Automotive Group data.
Housing has gained as Fed easing pushed mortgage rates to record lows. The S&P/Case-Shiller index of property values in 20 cities climbed 8.1 percent in January from a year earlier, the most since June 2006.
New-home construction in the U.S. climbed in March to the highest level in almost five years, propelled by a surge in multifamily building, a report from the Commerce Department showed yesterday. Other reports showed consumer prices unexpectedly dropped last month and factory production cooled.
Taxes, Budget
Dudley said yesterday federal tax increases that took effect in January, along with sequestration, are curbing gains from the housing rebound and stronger business and consumer spending.
"In the near term, there is considerable uncertainty about the outlook, particularly because the multiplier effects from fiscal drag," he said in a speech in Staten Island.
CSX Corp., the biggest eastern U.S. railroad, said 2013 earnings growth may be "flat to down from prior-year levels," according to the Jacksonville, Florida-based company's first-quarter statement yesterday.
Chief Executive Officer Michael Ward said in a telephone interview today that growth will remain sluggish should Congress and Obama fail to agree on a budget.
"If we survive the near-term crises, we will continue to see slow growth," Ward said. "My sense is we will continue to muddle along" at a range of 1 percent to 2 percent.
Falling Confidence
Retail sales dropped in March by the most in nine months, decreasing 0.4 percent. Confidence in the economy among Americans fell in April to a nine-month low, according to the Reuters/University of Michigan preliminary index of consumer sentiment.
Even with those setbacks, gross domestic product probably climbed at a 3 percent annualized rate from January through March, according to the median forecast in a Bloomberg survey of 69 economists from April 5 to April 9. That's up from the 2 percent gain projected by economists last month.
"The underlying trends in the economy point to continued growth and broadening growth," said Joseph Carson, who helps oversee $443 billion as director of global economic research at AllianceBernstein LP in New York. "The fundamentals are still very positive."
Before it's here, it's on the Bloomberg Terminal.
LEARN MORE