Bank of America Cuts Most Workers in First Quarter to Trim Costs
Hugh Son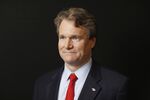 Bank of America Corp., the lender seeking to trim $8 billion in expenses, reduced staff by 4,378 workers in the first quarter, the most among the four largest U.S. banks.
The reductions amounted to almost 2 percent of the Charlotte, North Carolina-based lender's workforce. The job cuts left Bank of America with 262,812 employees as of March 31, the firm said today in a statement.
Chief Executive Officer Brian T. Moynihan, 53, has said that those handling delinquent mortgages and foreclosures would face the biggest job cuts as the number of late borrowers dwindles. The lender said it serviced 667,000 overdue loans as of March 31, compared with 1.6 million at the height of the financial crisis.
Moynihan told analysts on Jan. 17 that the bank will slice deeper into its mortgage team. "There's nothing more important in our company than getting this done as quickly as possible," he said.
Bank of America, the second-biggest U.S. lender by assets, has told state regulators it intends to close or shrink mortgage-processing facilities in New Jersey and New York. The firm cut 5,400 workers in the fourth quarter, most from the so-called legacy assets and servicing unit.
Wells Fargo & Co., the biggest U.S. home lender, added 5,100 employees in the first quarter to help process mortgages and staff branches. That cemented its rank as the lender with the most full-time workers, with 274,300.
Other firms made cuts. JPMorgan Chase & Co., the biggest U.S. lender by assets, eliminated 2,855 employees in the first quarter, leaving it with 255,898. Citigroup Inc., the No. 3 bank, trimmed about 2,000 workers and had a workforce of 257,000 as of March 31.
Before it's here, it's on the Bloomberg Terminal.
LEARN MORE