Temple Overhauls Business School Offerings
Louis Lavelle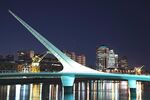 Temple University's Fox School of Business is planning a major overhaul, scrapping five graduate business programs and six MBA concentrations in preparation for a new global MBA program in the fall.
The school says the new international program will be offered in both full-time and part-time options. Students will take part in two faculty-led immersion experiences that focus on emerging economies—including China, India, South America, and South Africa—and work with global companies as part of a final project, which requires student teams to produce business plans for paying clients. A concentration in financial management will be available.
The new program requires 54 credit hours and costs $60,000, about $8,000 more than Fox's existing full-time MBA program.
"We recognize that globalization is the future of business, and we have long made international business a pillar of the Fox School," said Fox Dean M. Moshe Porat. "It is crucial to integrate international experiences into the education of every MBA student."
Fox is scrapping five programs: an MBA in international business administration, as well as MBA and MS programs in international business and information technology management. Fox's additional programs—including  a Master of Accountancy, MS degrees in IT Auditing, Cyber-Security,  Innovation Management and Entrepreneurship, and three graduate finance programs—will not be affected.
Six unpopular MBA concentrations are also being terminated: accounting, investment management, corporate financial management, international business management, pharmaceutical management, and risk management.
Students currently enrolled in these programs will be allowed to complete their degree requirements.
Join the discussion on the Bloomberg Businessweek Business School Forum, visit us on Facebook, and follow @BWbschools on Twitter.
Before it's here, it's on the Bloomberg Terminal.
LEARN MORE