Podesta, We Are Golf Tee Off Congress Lobby: D.C. Scene
Stephanie Green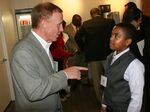 When David Marin joined the lobbying firm Podesta Group Inc., he said he looked forward to "long lunches and days of golf." So far, so good.
Last night he hosted almost 100 golf-industry professionals in his office's G Street cafe for a National Golf Day pre-reception. It was organized by We Are Golf, a coalition whose members will be buttonholing lawmakers and their staffers today to promote the sport.
Marin recited the numbers: Golf brings about $68 billion to the U.S. economy each year, along with 2 million jobs and about $4 billion in donations generated by charity golf tournaments around the country.
Steve Mona, the chief executive of the World Golf Foundation, said the group would be targeting members of the House Finance and Ways and Means committees, in particular, about tax deductibility legislation.
He said rebuilding costs for golf courses in Louisiana affected by Hurricane Katrina weren't eligible for tax deductibles partly because legislators thought people who played golf could afford to pay for the repairs themselves.
Last night Mona encouraged the industry leaders to relax and enjoy the cocktail hour before their day of appointments began.
He compared handicaps with student golfer Caleb Clark, who participates in an after-school program called The First Tee that teaches children how to apply the lessons of golf to their personal development.
Main Courses
Marin said he plays "weekly," if possible, at the Belmont Country Club, in Ashburn, Virginia.
The PGA was represented by Charlie Zink, the PGA Tour's co-chief operating officer, and Ty Votaw, the tour's executive vice president for communications.
Mona, who said he has a 10 handicap, enjoys the Cypress Point Club in Monterey, California, for its views of the Pacific Ocean. Patrick Finlen, the president of the Golf Course Superintendents Association of America, favors the Olympic Club in San Francisco.
Jennifer Hudson
Tomorrow night Jennifer Hudson will be doing some lobbying as part of the Grammys on the Hill Awards, an annual gathering of music professionals and legislators led by the Recording Academy and the Grammy Foundation.
Hudson will receive the Recording Artists' Coalition Award and Librarian of Congress James Billington will accept the Grammys on the Hill Award on behalf of the library's National Recording Registry.
Expect to see music executives like Clive Davis, the chief creative officer for Sony Corp.'s Sony Music Development Worldwide, and the Recording Academy's president and CEO, Neil Portnow. among the guests at the Hamilton on F Street nightclub.
(Stephanie Green is a writer and photographer for Muse, the arts and leisure section of Bloomberg News. Any opinions expressed are her own.)
Muse highlights include Laurie Muchnick, Mark Beech on books.
(Corrects figure for donations in third paragraph and name, location of club in eighth paragraph of a story published April 16.)
Before it's here, it's on the Bloomberg Terminal.
LEARN MORE