Icahn Agrees to Limit Dell Stake as LBO Alternatives Pursued
Lisa Rapaport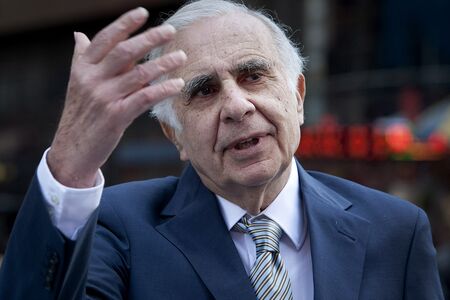 Billionaire investor Carl Icahn agreed to accumulate no more than a 10 percent stake in Dell Inc. as he continues to pursue an alternative to a $24.4 billion leveraged buyout by founder Michael Dell.
Dell gave Icahn a limited waiver to discuss a deal with other investors, while Icahn agreed not to join with other shareholders to build more than a 15 percent stake, Round Rock, Texas-based Dell said today in a statement. Icahn said in a separate statement that he wasn't ruling out a proxy fight.
Chief Executive Officer Dell and Silver Lake Management LLC's original bid to take the company private at $13.65 a share has been opposed by the company's largest shareholders as too low. The computer maker said last month that it got competing offers from Icahn and Blackstone Group LP that may be superior, putting pressure on the founder to sweeten his terms or switch allegiances.
"The agreement shows that Icahn is being taken seriously by Dell's board," said Erik Gordon, a professor at the Ross School of Business at the University of Michigan. "Unless Silver Lake is willing to go to a higher price with Michael, Michael either jumps ship for Blackstone or risks being a huge and hugely disgruntled stockholder watching the company from the boardroom but not the executive suite."
'Superior Proposal'
Dell's shares were unchanged at $14.04 at the close in New York, 2.9 percent higher than the original bid. The stock has advanced 38 percent this year, compared with a 10 percent gain for the Standard & Poor's 500 Index.
"Granting the limited waiver to Mr. Icahn while capping his share ownership will maximize the chances of eliciting a superior proposal from Mr. Icahn, while at the same time protecting shareholders against potential accumulation of an unduly influential voting interest," the company said in its statement.
Icahn last month urged Dell's board to pledge that it will pay a special dividend of $9 a share if investors reject the Michael Dell-led offer. Otherwise, Icahn said at the time that he would start a proxy fight and seek to replace directors with his own candidates.
'Proxy Fight'
"I have retained the absolute right to conduct a proxy fight at Dell," Icahn said in his statement today. He said he refused to take a $25 million expense reimbursement from Dell in order to keep that option open.
David Frink, a Dell spokesman, declined to comment beyond the company's statement. Charlotte McCrum, a spokeswoman for Silver Lake at Brunswick Group, declined to comment. Blackstone didn't respond to requests for comment.
Southeastern Asset Management Inc. and T. Rowe Price Group Inc., two of Dell's biggest outside investors, have said Michael Dell's offer undervalues the company he founded in his Texas dorm room in 1984.
Icahn would pay $15 a share in cash for as much as 58.1 percent of the stock, while Blackstone's plan values Dell at more than $14.25 a share.
Icahn had received U.S. regulatory approval on April 10 to buy as much as 25 percent of outstanding shares, according to Dell's statement today.
Before it's here, it's on the Bloomberg Terminal.
LEARN MORE