business
The Best Undergraduate B-Schools for Entrepreneurship
Geoff Gloeckler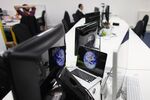 As part of the 2013 Best Undergraduate B-Schools ranking, Bloomberg Businessweek asked undergraduate business students from the Class of 2013 to tell us, via an online survey, about the full range of their business school experience, from getting in to getting a job. One section of the survey singled out specific aspects of the business program and asked the students to grade them on a scale from A to F. Over the next few weeks, we will publish the top 10 B-schools in each of 10 specialty areas, from accounting to sustainability, culminating with publication of the entire undergraduate specialty ranking, including each of the 124 ranked schools.
Today we look at entrepreneurship, an area of focus that has grown tremendously in popularity over the past five years. The ranking is based on student responses to the question asking them to rank their program's entrepreneurship offerings. Points are awarded for each response—one point for an "A" grade through five points for a grade of "F"—and then averaged for each school. The ranking is based on the average; schools with the lowest average are ranked the highest. If students did not have exposure to the area in question, they could answer NA and their response was not included. The average entrepreneurship score for all 124 undergraduate business schools in the ranking was 1.50. At the top of the list is Worcester Polytechnic Institute's School of Business, with a score of 1.03.
At WPI, a university with a heavy bent toward engineering even for business grads, entrepreneurship plays a part in nearly every course that students encounter. Not a surprise, considering it's the main focus of the university's mission statement: "Developing innovative and entrepreneurial leaders for a global technological world."
The business school itself offers a minor in entrepreneurship, activities like the Entrepreneurship Club on campus, and a business course catalog that includes classes like "Engineering Entrepreneurship," "Entrepreneurial Selling," and "Growing and Managing New Ventures."
"Our goal is to introduce as many students as possible—particularly non-business students—to innovation and entrepreneurship," says Mark Rice, dean of the business school. To achieve this, Rice, along with the deans from the engineering and arts and sciences schools, developed and co-teach a seven-week course called "Leadership, Creativity, Innovation, and Entrepreneurship," which challenges students to find solutions to world problems like food and energy supply, health-care quality and delivery, and global sustainability.
Following WPI in the rankings for entrepreneurship are Babson College, Baylor University's Hankamer School of Business, and Cornell's Dyson School of Applied Economics and Management.
Top Undergrad Business Schools for Entrepreneurship
| | | |
| --- | --- | --- |
| 1. | Worcester Polytechnic Institute | 1.03 |
| 2. | Babson | 1.07 |
| 3. | Baylor (Hankamer) | 1.10 |
| 4. | Cornell (Dyson) | 1.11 |
| 5. | Syracuse (Whitman) | 1.14 |
| 6. | Texas Christian (Neeley) | 1.15 |
| 7. | USC (Marshall) | 1.16 |
| 8. | Case Western (Weatherhead) | 1.167 |
| 9. | Washington University (Olin) | 1.17 |
| 10. | Arizona (Eller) | 1.19 |
Join the discussion on the Bloomberg Businessweek Business School Forum, visit us on Facebook, and follow @BWbschools on Twitter.
Before it's here, it's on the Bloomberg Terminal.
LEARN MORE