Saddam's Blighted Marsh Draws $150,000 Goldman Winner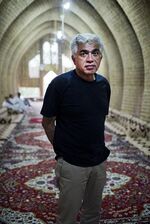 In the 1990s, Saddam Hussein diverted the flow of the Euphrates and Tigris rivers, then drained and burned the marshes of southern Iraq.
The reasons were mainly political; the effect was an epic disaster that killed or displaced tens of thousands of people and threatened to erase the very cradle of civilization.
"It's where writing was invented," said Azzam Alwash, 54, a dual citizen of Iraq and the U.S., and a force in the efforts to restore the Mesopotamian marshes. "It's where the first cities were created. It's where agriculture started. It's where Abraham was born. The myth of creation is from there. It is not only Iraqi heritage, it is a world heritage."
Shortly after the U.S.-led invasion in 2003, Alwash left his Los Angeles home and career in hydraulic engineering to return to Iraq to help save the dessicated marshland.
He started Nature Iraq, a nonprofit based in the town of Sulaimani, and consulted with the Madan, or Marsh Arabs. They had already begun punching holes in the walls of the canals built by Hussein, so that the area could seasonally flood again.
Alwash will be named today as one of the six 2013 recipients of the Goldman Environmental Prize. Each gets a bronze sculpture and $150,000.
I sat down recently with Alwash, a handsome man with graying hair, at Bloomberg's global headquarters in New York, and asked him what it was like in 2003, three months into the war, to see the marshes after so many years.
Physical Disgust
"A feeling of physical disgust," Alwash said. "It's one thing seeing satellite pictures of the dried marshes, another thing seeing it at ground level. You know distance gives it abstractness. It's vast, but it doesn't give you that visual of what the desert looks like, especially a place that was so unique in your childhood."
He spoke of the horror of Basrah at the time -- the stench, the skeletal dogs and cats on the streets, the lost beauty of the city -- but his natural optimism overwhelmed the bitter memories:
"There was also this hope in the air, just that everything and anything is possible. So while it was sad seeing your childhood place dead, you come in with this American attitude. It's like: Damn it, we're going to do it!"
Ten years on, the marshes are restored to more than 50 percent of their original size and the Madan are returning. It has been a monumental job under hellacious conditions -- war, terrorism, poverty and tumultuous social and political change.
American Mistakes
"How do you convert 50 years of socialism into a free market?" Alwash asked. "How do you separate church from state? And what was fascinating for me, for the first seven years and even now, I see the Americans making mistake after mistake, but they're not listening to people like me."
The U.S. government did help with marsh restoration at first, but after an initial $175,000 in aid, it gave no more, Alwash said. He partly blamed his own conflicts with the U.S. Agency for International Development.
"I just couldn't get along with USAID. It was my attitude. I don't like being told what to do and what not to do, and I don't like people who tell me it can't be done. The experts telling me it can't be done were hired by USAID."
Italy provided funding and consultants, and this month a sizable piece of the marshes will become Iraq's first national park. Alwash is also involved with a survey of more than 300 biodiversity sites throughout Iraq, looking to further expand protected areas.
Oil Income
Iraq's recovery will depend on how it develops its oil fields, many of which are in the south. Alwash has a pragmatic take on the subject.
"I might be viewed as a heretic in the environmental movement, but my point of view with respect to Iraq is that the world needs oil and Iraq needs income," he said. "I would rather be inside the tent working with oil companies and with Iraq on responsible development than outside the tent demonstrating without being effective."
The next threat to the marshes will probably not be oil, however, but the many dams tapping into the river systems upstream, including one of Turkey's largest along the Tigris, set for completion next year.
"There's another thing coming up on the horizon that nobody's talking about," Alwash said. "The issue of water: That's going to be a problem and that's going to be my next challenge."
Goldman Winners
The other Goldman Environmental Prize winners are:
Jonathan Deal, who led a successful campaign against fracking in South Africa.
Rossano Ercolini, an elementary-school teacher whose public-education campaign about the dangers of incinerators in his small Tuscan town became a national "Zero Waste'" movement in Italy
Aleta Baun, an Indonesian who organized peaceful protests at marble mining sites and helped halt the destruction of forestland on Mutis Mountain on the island of Timor.
Kimberly Wasserman, who led a campaign to shut down two coal plants in the southwest side of Chicago.
Nohra Padilla, who organized Colombia's "waste pickers" to make recycling part of waste management.
(Mike Di Paola writes on preservation and the environment for Muse, the arts and culture section of Bloomberg News. The opinions expressed are his own.)
Muse highlights include Jeremy Gerard and Philip Boroff on theater, Lili Rosboch on art.
Before it's here, it's on the Bloomberg Terminal.
LEARN MORE