Google's EU Antitrust Proposal Will Likely Be Tweaked
by and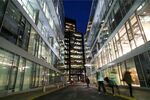 Google got a pass from U.S. antitrust regulators in January, when the Federal Trade Commission closed an investigation of the search giant, saying there was no evidence it had tried to stifle competition.
Elsewhere in the world, the company may not be so lucky.
In hopes of settling a probe by the European Union's competition czar, Google has proposed several measures to address complaints that it has abused its market dominance in Europe. A person familiar with the proposal, who asked not to be identified because the details haven't been made public, told Bloomberg News that Google has offered to provide additional labeling of search results so that users can more easily find services offered by its competitors. The company also suggested it would supply links to rival search engines, the person said.
Even that may not be enough. The EU says it will give the plan a test to see how it affects Web users' surfing habits, but rivals are already complaining that it doesn't go far enough to restore competition in the market. "When the market test goes ahead, we will try and be constructive," says David Wood, a lawyer for Brussels-based industry group Icomp, which includes Microsoft. But, he says, at first glance the plan appears to be "a nonstarter."
EU antitrust regulators typically conduct such test runs for a few months, and often require companies to make "quite significant changes" in their settlement proposals based on the test results, says Nicolas Petit, a professor of competition law at the University of Liège in Belgium. Google would have little choice but to accept the changes, he says, because European law gives considerable leeway to regulators, and European courts, unlike their U.S. counterparts, rarely overturn regulators' orders. Companies "know they'll face a hard time if they decide to resist" the regulators' demands, Petit says.
Google faces particularly close scrutiny in Europe because it controls an estimated 95 percent share of the search-engine market in the region, compared with about 75 percent in the U.S. Competitors allege that it promotes its own specialist search services at the expense of others, that it copies rivals' travel and restaurant reviews, and that it uses agreements with websites and software developers to stifle competition for advertising.
The EU started a formal investigation in November 2010. Al Verney, a spokesman for Google in Brussels, tells Bloomberg News that the company continues to cooperate with regulators.
In the meantime, antitrust investigations of Google are starting to crop up in other locales, including South Korea and Argentina. If Google reaches a settlement with the EU, "it could be the starting point for discussions in other countries," which might demand even more-stringent measures, says Emanuela Lecchi, a partner in the competition, regulation, and networks practice at law firm Watson, Farley & Williams in London.
Before it's here, it's on the Bloomberg Terminal.
LEARN MORE