Oil Price Forecasts Unleash Scottish Bulls in Independence Push
Peter Woodifield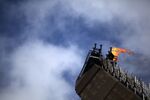 The politicians seeking independence for Scotland say the North Sea oil industry is on the cusp of another boom. Their price estimate makes them among the most bullish forecasters.
Ahead of next year's referendum on breaking away from the rest of the U.K., the Scottish government in Edinburgh last month predicted an average yearly price for Brent crude of $113 a barrel through 2017 and rising output. The U.K. government, citing futures contracts, reckons it will fall to $93 by that year, while the International Energy Agency sees $89.
"The estimates used are robust," Scottish Energy Minister Fergus Ewing said. "They are based on a range of forecasts of future production, prices and costs published by the industry and a number of other organizations."
The potential revenue from oil and gas is at the heart of the debate over whether Scotland would be better off economically as an independent state. A poll published April 8 showed the nationalists need to win over all the undecided voters to make the outcome too close to call.
"It's Scotland's oil" has been the central theme of nationalism for almost 40 years, with SNP leader Alex Salmond arguing that rising revenue will let the country invest more now and save money in a Norwegian-style wealth fund. The U.K. government and other opponents of independence say oil prices, and therefore revenue, are too volatile to rely on.
"If you could forecast oil prices accurately you'd probably be sitting on a beach in the Bahamas," said Claire Ralph, fiscal policy adviser at industry group Oil & Gas U.K., which hasn't declared support for or against Scottish autonomy.
'Cautious Estimate'
The Scottish government, run by the SNP since 2007, published a paper on March 11 signaling that oil and gas revenue in the six years until the end of the tax year in 2018 might be about 48 billion pounds ($73.5 billion).
It based the report on average prices for North Sea oil remaining little changed and output increasing by 30 percent to 2 million barrels of oil equivalent a day by 2017, the latest estimate from Oil & Gas U.K.
Salmond, who designed a now-defunct oil index in 1983 when working as an economist at Royal Bank of Scotland Group Plc, called his government's prediction a "cautious estimate."
"The assumptions about the oil price are on the optimistic side," said Jason Kenney, head of European oil and gas equity research at Banco Santander SA. "Future changes in supply and demand are likely to lead to a softening in the oil price."
Price Vagaries
Oil and gas revenue slumped to 6.5 billion pounds in 2009-2010 from 12.9 billion pounds a year earlier, before rebounding to 11.3 billion pounds in 2011-2012, according to the U.K. tax authority. It slumped to an estimated 6.5 billion pounds in the fiscal year ended March 31, the Office for Budget Responsibility, or OBR, said March 20.
Oil analysts have demonstrated a varied track record in predicting prices. While last year the median of analyst estimates compiled by Bloomberg at the end of 2011 proved to be within 2.5 percent of actual Brent crude prices, the margin of error for the previous year was 28 percent.
The median of 32 analyst forecasts as of Dec. 31, 2011, for average prices in 2012 was $109 a barrel, close to the actual average of $111.68 recorded last year. In contrast, the median of 22 forecasts as of Dec. 31, 2010, for Brent in 2011 was $86.50 versus an actual value of $110.91 for that year.
At the end of last year, the median prediction for 2013 was $110. The range of the 32 forecasts was $80 to $125.
Securing Prosperity
Oil futures show the price of Brent crude falling to about $92.50 a barrel in April 2017, while the median forecast of eight analysts surveyed by Bloomberg at the end of 2012 was for $100 in 2016. The spot price for a barrel of North Sea oil fell to $100.55 on April 12, the lowest since July 23. The price was $111.11 at the end of last year.
"The oil and gas sector is vitally important to Scotland's economy," Ewing said in an April 12 e-mailed response to questions via his press office. "An independent Scotland would have the potential to secure our future as Europe's energy capital and the prosperity that will bring."
By contrast, the Paris-based International Energy Agency based its assumption of $89 a barrel by 2017 on Brent futures in a report published in October.
The Norwegian public statistics bureau is forecasting that the average spot price for Brent crude will fall 11 percent to 575 kroner ($100.50) by 2016, dipping as low as 553 kroner in 2015 in local currency terms.
Too Pessimistic?
Based on oil futures, the OBR predicted that oil prices would decline 17 percent by the financial year ending 2018 from an average $112 this year. It forecast revenue of 33.2 billion pounds over that timeframe, using data from the Department of Energy & Climate Change, suggesting broadly unchanged production between 2013 and 2017.
"The department is being very defeatist," Alex Kemp, a professor of oil economics at Aberdeen University, said by telephone. "Putting their price and production forecasts together makes a very pessimistic combination."
The difference between the Scottish and U.K. forecasts is the annual equivalent of more than 2 billion pounds of revenue a year, according to figures from the two reports. That's based on an independent Scotland getting about 90 percent of oil and gas revenue in a geographical split, the delineation Kemp calculated from maritime fishing boundaries.
In its analysis last month, the Scottish government outlined five possible scenarios for revenue over the period ranging between 41 billion pounds and 57 billion pounds.
More Fields
North Sea oil output slumped 30 percent in the last two years, compared with a long-term average drop of about 6 percent to 7 percent. The drop resulted from tax changes that led to a slowdown in the development of new fields, together with planned and unplanned production shutdowns.
Oil & Gas U.K. expects production to rebound by 2017 as 30 new oil and gas fields come on stream. Companies will spend a record 13 billion pounds this year on North Sea investment, up from 11.4 billion pounds in 2012, the group said in its annual activity survey published last month.
Kemp, who wrote a history of North Sea oil, said his own analysis shows production will rise in the period. Output may peak in 2015 or 2017, depending on what happens to oil prices.
"It would be surprising if that investment doesn't have an impact on production," said Kemp.
Still, it is difficult to calculate accurately how much of any higher production will be reflected in increased tax revenue. Much of the increased investment has come from tax allowances introduced to encourage exploration and development. Those breaks will stifle revenue in the next few years.
"From a fiscal point of view there will be short-term pain for long-term gain," Edinburgh-based Kenney said. "The longer they can sustain interest in exploration activity, the better it is for long-term revenue."
Before it's here, it's on the Bloomberg Terminal.
LEARN MORE