What Happened to Small Businesses Walloped by Hurricane Sandy?
By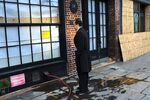 When Karen E. Klein compiled a report card on federal disaster loans for small companies three months after Hurricane Sandy, she gave the Small Business Administration's direct lending program mixed marks. Loan approval rates were better than past storms, but many business owners were in a holding pattern over the status of their applications.
Dal LaMagna, chief executive officer of Brooklyn countertop manufacturer IceStone, has a similar story. As Nick Leiber reports today in a photo essay about its recovery, IceStone was approved in early March for an SBA disaster loan for just under $1 million; he's still waiting for the money (though he expects to receive a portion soon, and credits the SBA with helping save his company). LaMagna has used more than $700,000 of his own money as a bridge loan to get his manufacturing operation back in working order.
IceStone isn't alone in making do in the interim. According to agency spokeswoman Carol Chastang, the SBA has approved more than 2,700 business disaster loans in areas affected by Hurricane Sandy, for a total of about $279 million. To date, however, only $39 million in loans has been disbursed.
Small business owners looking for good news on Sandy relief should note a pair of recent announcements from the SBA. At the beginning of the month the agency extended application deadlines for disaster relief loans for two hard-hit states. New York business owners now have until tomorrow, April 13, to file loan applications; New Jersey businesses have until May 1. (Information is available on this part of the SBA's site, by calling (800) 659-2955, or by e-mailing DisasterCustomerService@sba.gov.)
Yesterday the SBA announced $19 million in grants to provide long-term planning advice to businesses seeking to rebuild after the storm—funded by an emergency appropriation bill passed by Congress in January. "A business's suppliers, distributors, customers may all have been affected," says Michael Chodos, an associate administrator at the SBA. "So this is to help them most efficiently plan for the period ahead."
The grants will be made to SBA partner organizations, including Small Business Development Centers, Women's Business Centers, and Score, and will be doled out in two installments. The first tranche is for $5.8 million, 65 percent of which will go to New York and New Jersey.
There may be another bit of good news on the way. The SBA nor the Federal Emergency Management Administration weren't ready to confirm it, but tomorrow's deadline for New York businesses to apply for SBA disaster relief loans will likely be extended again.
Before it's here, it's on the Bloomberg Terminal.
LEARN MORE