pursuits
New Jersey 'Hamburglars' Steal $100,000 Worth of Meat
By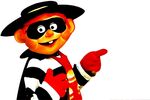 A container with $100,000 worth of hamburger patties bound for Hilton hotels in the Netherlands was stolen on April 8 from a shipping yard in Linden, N.J. Such perishable food thefts are not as rare as you might think. In January two men allegedly stole 26,000 pounds of chicken wings worth $65,000 from a storage facility in Georgia, as demand for wings rose ahead of the Super Bowl.
Police have about a 48-hour window to track down the foodstuffs before they are distributed, sold, and consumed—and the success rate is not great. We spoke with Captain James Sarnicki of the Linden Police Department, who's working the case, about the black market for burgers.
Is it possible the thieves intended to steal Prada bags and got hamburgers by accident?
We're investigating the possibility that it could have been an inside job where someone knew what was in there and tipped someone off. We have a lot of trucking yards in our city, and a lot of trailer thefts. Sometimes they actually cut the seals on a number of trailers before they find one with something good in it. It's hard to say if this was a random case. It hasn't been found yet. It's a perishable item, and it's in a refrigerated container. They are going to want to offload it soon and move it, because it can't sit for too long.
Honestly, who buys black-market burgers?
A lot of times these are organized enterprises. Usually, prior to stealing it, they have a market for it to offload it. Whether it's going to be sold in corner supermarkets or bodegas, there will be a market for it somewhere. That's why we're putting the brand name Hilton out there in case someone sees something suspicious. Usually we find the trailer within a day or two, because once they offload it to a refrigerator, they take the trailer to a rest area and dump it. But it's been two days now, and we haven't heard anything. It might just be in a warehouse somewhere, but they'll have to offload it soon.
Is this common?
This is the first I've heard of hamburgers. Food, not that often because it is perishable and has to be refrigerated, so you have a timeline to offload it and get rid of it. A year or two ago, we had a trailer loaded with Peroni beer that was taken. It runs the gamut: diapers, furniture, you name it.
These groups are pretty sophisticated. We don't have too much of a success rate if it's not recovered quickly.
What's your window?
These people move pretty quickly. If we don't recover within 48 hours, our percentage drops. We may recover the truck, but the product may be gone.
It's like the movie Taken, but, you know, with hamburgers.
Last year a trailer load of cheese was taken. So someone said there's the connection—there's the cheese, and now the burgers were taken. Next we're gonna get the onions or the buns taken.
Before it's here, it's on the Bloomberg Terminal.
LEARN MORE