Goldman's Matsui Says Japan Best Equity Market as Targets Raised
Anna Kitanaka and Toshiro Hasegawa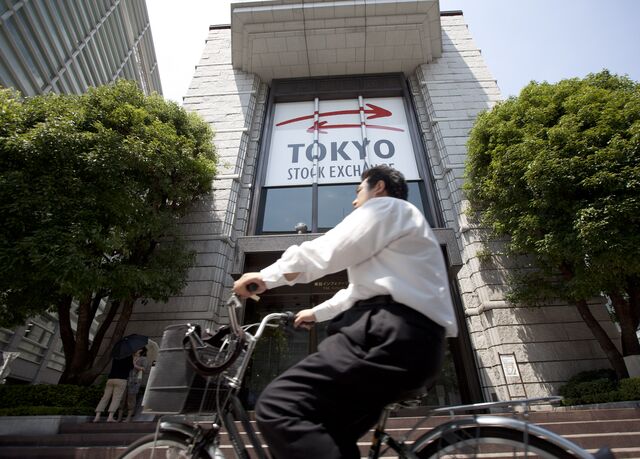 Goldman Sachs Group Inc. boosted its outlook on Japanese shares for the fourth time this year on the Bank of Japan's "credible commitment" to beat deflation.
Goldman Sachs raised its 12-month Topix Index outlook to 1,350 from 1,250. The last time the brokerage raised its Topix forecast was in March. Goldman Sachs also raised its 12-month Nikkei 225 Stock Average estimate to 16,000 from 15,000, representing an increase of 18 percent from yesterday's close. The brokerage also sees the Topix reaching 1,600 and the Nikkei 225 at 19,000 before fiscal 2015.
"I would argue that there's no other investment option as attractive as Japan's right now, especially within equities," said Goldman Sachs' chief Japan equity strategist Kathy Matsui in a telephone interview. "The BOJ and its governor Haruhiko Kuroda's commitment and credibility to get out of deflation is different from the past. They have a clear strategy to start their reflationary measures from scratch."
The Topix, which increased 0.1 percent today, surged 59 percent from mid-November through yesterday as Prime Minister Shinzo Abe and Kuroda pledged to defeat 15 years of deflation. The gauge rose for seven days from April 3, when the BOJ began a meeting that ended with an announcement that the bank will double the monetary base by the end of 2014 by buying government bonds, its boldest round of quantitative easing.
Book Value
Valuations remain in-line with global markets, and nearly half of the stocks on the Tokyo exchange first section trade below book value, strategists led by Matsui wrote in a report yesterday. That's less than during the rally in 2005 and 2006, when Junichiro Koizumi was prime minister, and when 11 percent traded below book value, the report said.
"We say that investors should be selective in buying exporters, as there's doubt as to whether the yen was the only negative effect for some of those companies that were never that competitive anyway," said Matsui. "We recommend investors buy domestic stocks such as banks, real estate, housing, retail and small-mid-sized companies."
Attractive "laggard" stock opportunities -- shares that have underperformed the Topix and their sectors while posting positive earnings revisions -- include imaging company Fujifilm Holdings Corp., Japan's biggest shipping line Nippon Yusen K.K., software company IT Holdings Corp., housing materials maker Ibiden Co., lender Aozora Bank Ltd. and trading company Mitsui & Co., according to the report.
Positive Impact
Japan's economy is likely to grow 2.5 percent in fiscal 2013 because of the weaker yen and higher asset prices, strategists led by Matsui wrote in a report dated yesterday. Japanese exporters should start to see the positive impact from a weaker yen in fiscal year 2014 and beyond and domestic consumption may also increase due to the "wealth effect" from higher asset prices, they wrote.
For companies listed on the Tokyo Stock Exchange first section, every 10 yen decline against the dollar results in a 6 to 8 percentage point gain in operating profit growth for fiscal 2014, they wrote. Earnings per share on the Topix will probably rise 54 percent this fiscal year and 23 percent the next year, they wrote.
"A number of investors are worried that Japan may be approaching its cyclical peak in profitability and -- as seen in the past -- the improvements won't last," Matsui wrote. "We believe there are three structural reasons to expect that Japanese corporate profitability and return on equity may not revert to past cyclical lows."
Cost cutting by Japanese firms to counter yen strength after the March 2011 earthquake and tsunami, increased dependence on overseas sales and high levels of cash holdings for use as dividends will help Japan sustain return on equity, Matsui wrote.
Before it's here, it's on the Bloomberg Terminal.
LEARN MORE