At JPMorgan, Profits Climb, Revenue Falls, and Dimon's Odds Go Sideways
The bank's 33 percent rise in profit comes largely from cost-cutting, as Dimon fights to keep his title as chairman.
By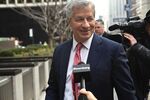 Jamie Dimon's fight to keep both of the titles on his business card is still too close to call. The chairman and chief executive officer of JPMorgan Chase announced first-quarter earnings of $6.53 billion this morning, up 33 percent from the previous year—figures that might or might not placate shareholders still irritated by the ongoing fallout from the bank's "London Whale" trading fiasco almost a year ago.