Amazon's Bezos Paying Refunds for Shoddy Streaming, Poor Service
Danielle Kucera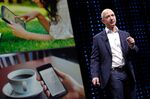 Amazon.com Inc. has built automated systems that detect when a customer hasn't paid the lowest available price for a product, or when the playback of a streaming movie is shoddy, and doles out refunds.
Focusing on customers is a bigger priority than emphasizing beating competitors or aiming for stock performance, Chief Executive Officer Jeff Bezos said in his annual letter to shareholders today.
The biggest online retailer has funneled money into digital media, fulfillment centers and cloud computing -- an $18.5 billion spending spree designed to spur growth at the expense of near-term profit. Investors have applauded the efforts, with the stock almost doubling in three years and valuing it at more than 700 times earnings at the end of last year, the highest ratio of any company in the Standard & Poor's 500 Index.
"We lower prices and increase value for customers before we have to," Bezos said in the letter. "We invent before we have to. These investments are motivated by customer focus rather than by reaction to competition."
In one example cited by Bezos, who founded Seattle-based Amazon in 1994, the Web store's software detected poor playback for a customer who rented the movie "Casablanca" online and sent a $2.99 refund. The company also pays back the difference when the price of an item drops between the order and the time of shipment, he said.
Prime Details
Bezos also touted Amazon's biggest customer-service program, called Prime, which offers unlimited two-day shipping and access online video for those paying an annual $79 fee. The company now has more than 15 million products under the program, a fifteen-fold increase since the program started in 2005, Bezos said. Prime's video selection has more than tripled in about a year to 38,000 movies, documentaries and television shows, he said.
"We didn't 'have to' make these improvements in Prime," Bezos said. "We did so proactively."
Amazon paid Bezos an $81,840 salary last year, offering no raise and no stock awards, leaving him among the lowest-paid CEOs running large technology companies. The rest of his $1.68 million total compensation was for security and for corporate travel, the company said separately today in a filing with the U.S. Securities and Exchange Commission.
Before it's here, it's on the Bloomberg Terminal.
LEARN MORE