Top Golf Courses on Bubba's Hovercraft: Keep Away
Paul Wachter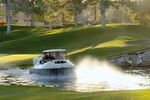 Today, as the first round of the Masters tees off, the golf world's attention may finally return to the green jacket, which has been improbably eclipsed of late by the hovercraft as the sport's most coveted prize. By now you've seen the footage: Bubba Watson, last year's winner at Augusta National Golf Club, cruises around a course in a hovercraft cart.
"Let's go through the water hazard, come off the other side right by the green, putt your ball in the hole, and then you can drive back across the water hazard," Watson gushes in a video produced by his sponsor, Oakley, that went viral.
The video, intended to be a silly publicity stunt, has since been watched by more than 60 million viewers. Yesterday, Neoteric Hovercraft, the one-off prototype's manufacturer, said it will sell the carts to the public this year for $50,000.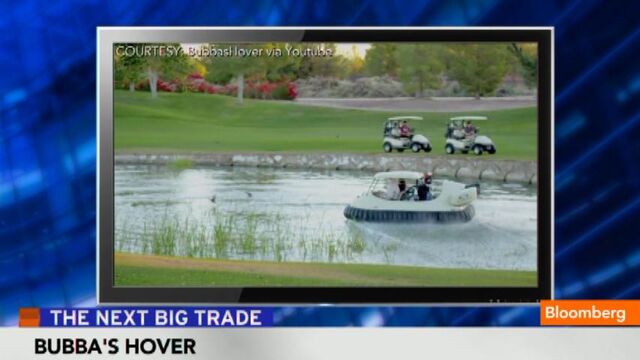 But golf is perhaps the most fastidious sport on earth. Courses are turfgrass temples where members are not only expected to keep quiet, replace every divot, and fix every ball mark, but also are expected to adhere to strict fashion codes. Augusta National, home of the Masters, admitted its first two female members last year. That said: How would officials at an upscale golf course react if someone showed up for his or her tee time with a bag of clubs and a hovercraft?
"We're caddy only," huffed a pro at New Jersey's Pine Valley Golf Club, which Golf Digest recently rated the best golf course in the country, just ahead of Augusta National. Well, so much for the crème de la crème.
Thirteenth-ranked Seminole Golf Club, in Juno Beach, Fla., does allow carts. And when Bloomberg Businessweek called and asked about Bubba's hover, assistant pro Dustin Toner allowed that "it was cool." But he added, "It would never happen here—not a chance."
The hover faces other hurdles, too. Most prestigious clubs already have sponsorship relationships with more staid golf cart manufacturers—you'll see only E-Z-GO carts at California's Pebble Beach Golf Links, Golf Digest's top-ranked public course (and seventh overall).
But if there's anywhere that isn't afraid to court silly fun, it's Las Vegas, and Bloomberg Businessweek was hopeful the hover might get a warmer reception at Shadow Creek Golf Course (rank: 29). After all, according to director of golf Monte Montgomery, Shadow Creek already stocks four Porsche Garia Soleil de Minuits, luxury golf carts that cost $52,000 and don't fly over water.
"No," Montgomery said. "I don't see the hovercart working for us out here."
Before it's here, it's on the Bloomberg Terminal.
LEARN MORE