How to Sell Your Tax Credit
by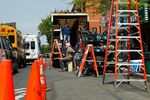 Imagine you have a tax credit you can't use. Maybe your production company put some money into a film project in a state that gives tax breaks to attract productions. But the project didn't make enough profit to incur state taxes that you could offset with the credit. So your tax break disappears, right?
Not always. It turns out there's a secondary market for some credits that can be legally transferred to another taxpayer. The rules vary from state to state, but in many cases a company with a tax credit it can't use may sell it to another taxpayer, generally at a discount. A small industry of "tax credit brokers" matches buyers with sellers, taking a fee for the service. Danny Bigel wants to bring them together.
Bigel is a former film producer with a Wall Street background (he spent 15 years on the floor of the New York Stock Exchange). He's also the founder of the Online Incentives Exchange, which he hopes will become the EBay of tax credit trading. He says it's a multibillion-dollar market with little information for buyers and sellers to set prices. "Why isn't there an efficient market for these credits?" Bigel says. "Why is there this lack of transparency, this opaque fragmented market?"
Partly because it's so obscure. Tax credits are not liquid securities like stocks and bonds. They'll never pay out more than their face value. You can't use a tax credit to pay your rent or your workers' salaries. Purchasing a secondhand tax credit for, say, ¢90 on the dollar gives you a slight discount on your tax bill, but the deal has to be worth the cost of what can be a complicated transaction.
Bigel has identified about 250 different tax credits in 45 states that might trade on his exchange. They're incentives that state and local governments offer to court all sorts of activity lawmakers deem desirable: film production, biotech research, clean energy, preserving historic buildings, or redeveloping fallow property.
So far, though, the Online Incentives Exchange, which is based in New York City, only lists Louisiana tax credits. The site creates standardized legal documents and vets sellers to make sure the credits are legit. Bigel won't say how many transactions have closed, but he puts the value of tax credits traded in the millions of dollars since the site launched in October. The company takes a fee, paid by the seller, of between 2 percent and 5 percent of the price, depending on the size of the deal.
The question for the Online Incentives Exchange is whether the trade in secondhand tax credits is big enough to support a business. Kevin Segalla began brokering tax credits in Connecticut in 2006, after opening the Connecticut Film Center in Stamford to help production companies do business in the state. He says in a typical transaction, a seller will get between 92 percent and 95 percent of the value of a tax credit, and a broker might take a fee of 0.5 percent. "It's not something that is a big business that can support a whole bunch of people in and of itself," he says.
Bigel and Segalla both say that the state tax credits only work to create jobs and build new industries if companies can reap the benefits. That means companies that earn credits but don't owe state taxes need a place to sell them.
"It's important that those earning the incentives are able to utilize them," Segalla says. "There's a small economic benefit to the [buyers who] are able to use these credits in their place. The bulk of the benefits are always going to the place it's intended."
Before it's here, it's on the Bloomberg Terminal.
LEARN MORE