Don't Throw That Out! LeanPath Harnesses Data to Fight Food Waste
Ira Sager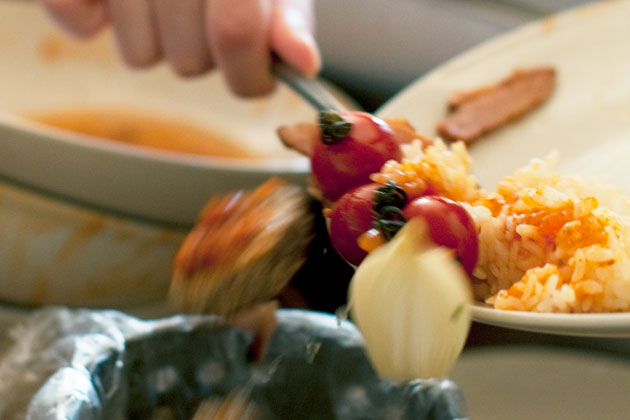 Standing in a prep area below one of four dining halls at the University of Massachusetts Amherst, dinner service is nearing. But chef Anthony Jung isn't preparing food; he's measuring it. Amid racks of trays with marinating flank steak and just-grilled chicken thighs, Jung taps a few buttons on a small digital screen attached to a scale to learn the value of the squash he's about to discard. He's pleased the tally for the trimmings from the 70 pounds of "Sautéed Squash Blend" he'll serve this evening is miniscule: just 30 cents.
Amherst operates a $70 million food service that produces 40,000 meals a day. In the year since the school started tracking food waste, it has saved more than $300,000, according to Jung's boss, Garett DiStefano, director of residential dining, who used to have no idea what was thrown out. That's 124 tons of food scraps—roughly the weight of 25 elephants—that Amherst didn't have to send to a landfill or compost. "If we reduce what we waste," he says, "it makes a big impact."
Kitchen staff in roughly 150 universities, hospitals, and hotels use the same technology, marketed by LeanPath, a 15-person Portland (Ore.) company, to monitor the amount of food waste their operations produce. The data collected help managers and employees zero in on what they can do to reduce waste, save money, and make their facilities greener. While LeanPath, which launched in 2004, isn't targeting restaurants yet, co-founder and President Andrew Shakman, 40, sees it as a natural progression.
This may be the company's moment. Food waste and the strain it places on energy and water resources, as well as landfills, is the new frontier in sustainability. The U.S. Department of Agriculture is studying the problem and major industry groups, including the National Restaurant Association, are trying to get members to reduce the amount of rubbish they produce. The food service industry is the biggest source of waste in the U.S., accounting for 4 percent to 10 percent of food purchased annually—$8 billion to $20 billion—that is thrown out before it ever reaches a plate, according to data compiled by LeanPath.
LeanPath's pitch for reducing food waste is straightforward. Customers install its scale and touchscreen unit, which starts at $5,000, in the kitchen near where excess food is dumped, often by the dishwasher or prep area. Before food is discarded, it goes on the scale, where workers enter their name, record the type of food, the type of container used (subtracted from the total weight), the station (salad bar, dessert, pizza, for example), and the reason it's being tossed. The system then sets a dollar amount for what's being discarded. "It's like a cash register for food waste," says Shakman, who notes the self-funded company's revenue grew 90 percent last year.
Customers can upload the data collected by the scale via flash drive or cables, and the company's software can spit out all sorts of graphs and charts for managers. (Shakman says a cloud-based version of the system for real-time analytics is imminent, and the company's first international foray, a pilot system for a customer in the United Kingdom, is planned for the third quarter.) At Amherst, charts showing the top foods wasted, reasons for loss, and most overproduced foods line the wall leading to the main serving area for everyone to see. "It motivates the culinary staff to waste less," says chef Jung.
Shakman says that LeanPath is really about getting people to change the way they work. "Our business is about culture and shaping behavior," he says. "It's not rocket science to figure out how to make less mashed potatoes. It is hard to identify that it's mashed potatoes [that are overproduced] and to change behavior."
To get the most out of the data, LeanPath customers organize small teams of kitchen workers that meet weekly to review it and determine how to change their profligate ways. The groups (they're called SWAT for Stop Waste Action Team) recognize individuals who record the most discarded food with a simple "thank you" in front of peers or with incentives like gift cards or movie tickets. "It's not a punitive system," says Nancy Goergen, training and development specialist at Sanford Medical Center, a 545-bed hospital in Sioux Falls, S.D., that cut waste by nearly $200,000 over 18 months. "We reward people who enter the most waste. It really wasn't their fault if we ordered too much."
Why would low-paid workers care about saving money for their employer? "These folks do care because at home they live on tight budgets," says Shakman. "They're not wasting food and don't like to see it at work." Amherst's DiStefano offers another perspective: "The less you produce, the less work you have."
Before it's here, it's on the Bloomberg Terminal.
LEARN MORE