Curriculum Changes for Two Top EMBA Programs
Francesca Di Meglio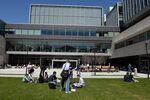 Executive MBA programs at two top business schools, University of Chicago's Booth School of Business and the University of North Carolina's Kenan-Flagler Business School, are getting facelifts. Kenan-Flagler will launch its revamped evening and weekend EMBA programs in fall 2013, while Booth will roll out its new EMBA curriculum beginning in June.
Administrators at both schools say the changes are a result of student suggestions and the challenges faced by a dearth of corporate sponsorship for executive students. The percentage of EMBA students receiving full financial sponsorship from employers has decreased from 27.3 percent in 2011 to 25.9 percent in 2012, according to the Executive MBA Council.
"More students are paying on their own, so adding value and responding to feedback is ongoing," says Patty Keegan, associate dean of the EMBA program at Booth.
Incoming EMBA students at Booth can expect an additional week of face time with their classmates from all over the world, Keegan says. They will have five weeks instead of the current four, including three weeks in Chicago, one week in London, and one week in Singapore. Before, students could opt for the extra week if they wanted additional electives. Now everyone will take two weeks of electives.
In addition, EMBA students will have to participate in LEAD (Leadership Effectiveness & Development), an experiential learning program that full-time MBAs have been participating in for years, Keegan says. LEAD includes workshops, self-assessment tests, and hands-on learning opportunities. At the end of the EMBA program, study groups will compete in a computer simulation and presentation to judges.
At Kenan-Flagler, administrators heard from students that its EMBA program took them away from their work for too long. As a result, the school will use new technology to provide a mix of video, live online sessions, taped lectures, and simulations to offer more convenience, says Sarah Perez, executive director of the EMBA program at Kenan-Flagler.
Perez says the school changed the schedule for face time on campus. Evening EMBA students will attend class one night per week, as opposed to two, as they currently do. Weekend EMBA students met every other weekend before but will now meet every three weekends and on different days. To reduce the time out of work on Fridays from 33 days to 18 days, the school will now have students sometimes meeting in class on Saturdays and Sundays, as opposed to only Fridays and Saturdays. The evening EMBA will be two years; the weekend program will be 20 months.
Join the discussion on the Bloomberg Businessweek Business School Forum, visit us on Facebook, and follow @BWbschools on Twitter.
Before it's here, it's on the Bloomberg Terminal.
LEARN MORE