As Smartphones Get Bigger, Will Android's User Base Get Smaller?
Kevin C. Tofel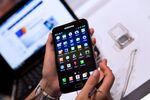 I'm on record saying for the past two years that larger-screened smartphones are what many people want. I saw the light in late 2010 when I tried my first 7-inch tablet. Yes, a tablet is very different from a phone, but I still see much convergence and opportunity here. What got me excited? The experience of a highly portable device with a larger display made content consumption so much more enjoyable.
Since then we've seen flagship smartphones, mostly running Android, with displays first at 4 inches, quickly followed by 4.3 inches and 4.5 inches, and now up to 5 inches and even beyond. You'd think that's great if people want larger screens on their phones, and according to T-Mobile, 77 percent of their customers do. But can this growth in Android flagship phone displays actually hurt the most-used mobile phone platform? It already has lost at least one customer.
Sascha Segan at PC Magazine is done with Android, and screen sizes are the sole reason. After speaking with several phone manufacturers, he says the issue is one of "moar:" Consumers in the U.S. and Canada equate value with phones packed with as many features and top hardware components as possible. We want more screen space, more functions, more of everything in our mobile devices. So based on the trend of larger screens, Segan isn't likely to switch back to Android soon, if ever. As he puts it:
But the Android world has been seized by the tyranny of moar. To switch back, I need a decent one-handed phone. Like about 25 million other Americans and Canadians, I take public transportation to work, and I really like to play games standing up.
I know Segan personally, as we're peers in our industry and often see each other at trade shows and launch events. Truth be told, we're both smaller than average in size. Yet, while I understand his complaint, I'm actually fine with larger devices. Why the difference? I am, and always have been (even with the original iPhone), primarily a two-handed smartphone user.
Regardless, Segan makes an excellent point. In today's market—and likely for some time—if you want a top o' the line Android smartphone, you'll either need hands the size of Andre the Giant's (and pants pockets to match), or you're going to use your handset with two hands in most circumstances. Who knows?—small tablets might replace smartphones for many as our perceptions of portability evolve.
There's an alternative of course: Android phones start getting too big for a large audience, and consumers turn to smaller devices that run iOS, Windows Phone, or BlackBerry 10. Obviously, one person leaving Android due to flagship phone sizes isn't even close to being a trend. Looking ahead, however, this could become an issue if handset makers continue down this path.
And I see no reason why those who make phones will stop with the "bigger is better" approach to design. The top-selling Android phones these days tend to be larger than average. Add in the fact that we now have high-resolution 1080p display panels, and there's even more room for phone screens to expand.
After all, after a certain pixel density, there's little benefit to cramming more pixels in a smaller screen. The new 1080p screens should still look just as good to most people on a 6-inche or 7-inch device as they do on the 4.7-inch HTC One or 5-inch Samsung Galaxy S 4. Maybe "moar" is better for now? If not, opportunities for Android competitors could get as big as the screen on Android flagship phones.
Also from GigaOM:
Android's Security Vulnerabilities Are an Opportunity for Apple—and Some Android Vendors (subscription required)
Really, Microsoft? Your Vision for the Future of TV Is … an HDMI Cable?
The PC Market Is a Horror Show Right Now
For Foursquare, Why Being Mayor Isn't Enough to Build a Business
Before it's here, it's on the Bloomberg Terminal.
LEARN MORE