Would You Tweet This Article if It Earned You Points?
A young Korean tech entrepreneur is relaunching her grandfather's magazine on an innovative new platform
By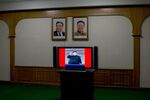 Is it possible to coerce virality? Won Hee Chang, a young Korean tech entrepreneur, is looking to find out by reviving her grandfather's magazine with a new model for monetizing online journalism: Readers who share content via social media will be able to access additional articles for free. Later this month, she'll launch a Web version of Sasangge, the venerated Seoul-based literary magazine that ceased publication in 1970, not long before her grandfather, a pro-democracy activist, met an untimely end.