Would You Tweet This Article if It Earned You Points?
A young Korean tech entrepreneur is relaunching her grandfather's magazine on an innovative new platform
By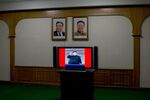 Is it possible to coerce virality? Won Hee Chang, a young Korean tech entrepreneur, is looking to find out by reviving her grandfather's magazine with a new model for monetizing online journalism: Readers who share content via social media will be able to access additional articles for free. Later this month, she'll launch a Web version of Sasangge, the venerated Seoul-based literary magazine that ceased publication in 1970, not long before her grandfather, a pro-democracy activist, met an untimely end.
Content, available in English, will initially be free. When readers log on to the site for the first time, they'll receive a certain number of points—Chang calls them "karma points"—which will slowly be depleted as they click through articles. To restock on points and maintain access, they will have to share the site's stories through social media outlets such as Facebook and Twitter. It's a bit like multilevel marketing—the more readers spread articles, the greater their access. Those who bristle at being asked to share content can buy points; five points will cost 99¢. "I'm sort of riding off of a gaming model where, instead of pay to play, you can share to play," Chang says.
Chang plans to pay contributors a competitive up-front fee but also give them a percentage of revenue generated by their articles. "We'll know the click-through rates for every single article, so we can actually give you a cut for the advertising that goes through," she says. "You won't get paid once; you'll get paid continuously." Chang plans to bring in revenue by running the site as a data platform—a way of collecting reader data that can be shared with third parties—and deploying targeted advertising.
A polyglot who grew up in Singapore and earned an undergraduate degree from New York University, Chang began her career working in advertising, private equity, and with tech startups, including an MIT Media Lab spinoff. She returned to South Korea this year to mentor startups there. She also wanted to be in the country when government officials exhumed the body of her grandfather, Chang Chun-Ha, to rebury him in a unification park named in his honor on the border of North Korea.
Chang Chun-Ha's recent autopsy and reburial have been relentlessly covered in the media in South Korea. Born in 1918, he fought in the Korean Liberation Army, and the story of his escape from the Japanese Army in 1942 is now a musical (much to his granddaughter's chagrin: "A musical, of all things!" she says). He later won recognition as a pro-democracy activist and in 1953 founded Sasangge (a name that translates roughly to World of Thought). By 1956, the magazine's circulation rose to 30,000, and in 1962 Chang Chun-Ha won the Ramon Magsaysay Award for Journalism, considered to be Asia's Nobel Prize.
The nonpartisan magazine, which ran everything from German poetry to a profile on Watergate prosecutor Archibald Cox, closed right before Chang Chun-Ha was arrested by the military government of Park Chung-Hee, who seized power of South Korea in a coup in 1961. In 1975, the renowned publisher mysteriously fell off a cliff. Foul play was suspected at the time, and when Chang Chun-Ha's body was exhumed this year, an autopsy indicated that he'd likely been hit over the head and dragged before falling.
Won Hee Chang is now racing to launch the new Sasangge before the end of April, which is the 60th anniversary of the original magazine's founding. A Korean-language version of the magazine will be published in parallel with the English version but will run on a separate platform called KakaoPage, which is the mobile content service run by Korea's ubiquitous communications company KakaoTalk.
Stories, interviews, and archival material will be added on a weekly basis, and the site will be heavy on video and images. Chang says she already has friends at the Economist, the AP, and elsewhere pitching in, but she hopes her new method for monetizing journalism will make it possible to fund investigative, long-form journalism. "You can't have people write for free," she says. "That's just idiotic."
The first issue of Sasangge will focus on North Korea—a timely topic that Chang is hoping readers won't be able to resist sharing with their friends.