The Glock Divorce Comes to America, Revealing New Details About the Gunmaker
Paul M. Barrett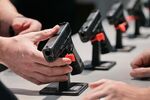 With the U.S. gun-control debate heating up in Washington, the Glocks, the first family of handguns, have brought their special brand of domestic dysfunction to America.
When last we reported on the Glock family feud, Gaston Glock, the Austrian inventor of the market-changing semiautomatic pistol, was at odds with his ex-wife, Helga, over future control of the global firearm manufacturing empire. In December 2011, Helga, Gaston's wife of 49 years until they divorced earlier that year, filed a civil lawsuit in an Austrian court seeking to regain a significant stake in the family-owned gun operation. Austria-based Glock GmbH and its offshoots make weapons used by about two-thirds of American police departments and owned by many civilians as well. Militaries and law enforcement agencies around the world have adopted the large-capacity handgun.
Helga, 72, alleged that her stake in the company was improperly shifted from her control by advisers to her 83-year-old ex-husband and his new wife, Kathrin Tschikof, who's in her early 30s. Since 2010, the Austrian suit states, Helga Glock and her three adult children with Gaston have all been ousted from their roles with the company. Helga claims that she and her offspring—Brigitte, Gaston Jr., and Robert—spent decades helping the family company expand from a garage metal shop into a global powerhouse.
Now, having had difficulty via the Austrian judicial system obtaining financial information from her famously secretive ex-husband, Helga has hired an Atlanta law firm. Arnall Golden Gregory (marketing slogan: "Not if, but how") has sought a U.S. court order instructing Glock Inc., the American subsidiary located in suburban Atlanta, to turn over a pile of documents charting Gaston Sr.'s financial holdings.
Helga Glock's legal papers reveal new hints about the riches her ex-husband has amassed since introducing the first Glock pistol in 1982. The legal action, technically known as an "ex part application for judicial assistance in obtaining evidence for use in a foreign tribunal," is pending before a federal magistrate judge in Atlanta. A phone message late Tuesday seeking comment from Glock Inc. Vice President Joshua Dorsey, who often speaks for the company in the U.S., was not answered.
Before the judge rules, here are some items that jump out of the Helga Glock filing:
• The three Glock children, according to Helga, "were being prepared to take over the company's management, and all three worked in the business from an early age. Respective of their ages, they would take over appropriate responsibilities." (Who would control the Glock companies after the death of Gaston Sr. has long intrigued the firearm industry. Helga contends it was supposed to be her children. A number of other gun companies and private investors are thought to be interested in acquiring the valuable Glock brand.)
• "Many things changed after my former husband had a stroke on Oct. 23, 2008," Helga states in an affidavit dated March 7 that was included in the legal papers. "As he was recovering in the hospital, weak and frail, Mr. Glock was being 'looked after' by Kathrin Tschikof, his 50-years-younger girlfriend who was downright engrossed with him. She totally denied me and other family members any access to Glock Sr., warning us that such contact would threaten another stroke or possibly cause death. After that, Gaston Sr. starting breaking off contact with me, all three children, including his grandchildren, more and more. In early 2010, Gaston Sr. terminated all three children under false statements from the company."
• "At the time when Gaston Sr. started pushing his family out," Helga continues, "he had a worldwide wealth of billions. It is now becoming evident that in anticipation of filing for divorce, Gaston Sr. had already started to move and hide personal and corporate assets, that he had started to line up new business endeavors, and was trying to find ways to reduce the family's wealth … and eventually eliminate it entirely."
• As just one illustration of Gaston Sr.'s alleged financial shuffle, Helga says that shortly after his stroke, her ex-husband transferred €172 million and "all properties and real estate acquired during our marriage" to a private trust he controls. She claims that he also transferred all Glock patents and licensing rights to a separate trust. The intellectual property assets alone have average yearly net income of more than €46 million, she says.
• Gaston Sr. "has erected a complex and opaque structure of holding companies and trusts for Glock-affiliated entities throughout the world," Helga's lawyers assert. Through this network, "he can move and has moved what Ms. Glock contends are marital assets."
• Helga has three legal initiatives going simultaneously in Austria: One seeks the return of a 15 percent stake in the company she alleges was taken away from her by means of the manipulation of family trusts; another seeks a division of marital property; and a third demands the equivalent of alimony.
• And, she reads Bloomberg Businessweek! In arguing that Gaston Sr. is holding out on her, Helga's lawyers rely heavily on our coverage of the company, as well as on my book GLOCK: The Rise of America's Gun. (Yes, yes, totally self-serving, but how often does a lowly journalist get to boast like that?)
As noted in another Bloomberg Businessweek dispatch on the Glocks, Gaston Sr. has insisted his conduct has been proper:
"Alfred Autischer, Gaston's public-relations representative, said via e-mail: 'We ask for your understanding that Gaston Glock won't comment on ongoing proceedings in Austria. The proceedings only affect the private life of the Glock family. The companies of the Glock group are affected in no way.' A receptionist at Glock [in Austria] said company executives would have no comment. In a statement to the newspaper Die Presse in December [2011], Gaston denied any wrongdoing and said that he 'won't allow that allegations, falsehoods, and speculation damage my reputation or that of my company.' The new Mrs. Glock, now managing director of the Glock Horse Performance Center, an equestrian complex in southern Austria, also declined to comment, according to Autischer."
The Glock saga shows no sign of wrapping up anytime soon.
Before it's here, it's on the Bloomberg Terminal.
LEARN MORE