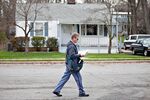 U.S. Postmaster General Patrick Donahoe angered many people in February when he announced a plan to suspend Satuday letter delivery. Postal worker unions called for his resignation. Their sympathizers in Conrgess said Donahoe didn't have the power to do this on his own.
The backlash raised an interesting question: Would Donahoe stand firm and proceed with his plan, which he said would save $2 billion?
The answer turns out to be no. The USPS board of governors said today that it would retain Saturday delivery even though it is awash in red ink. Unsurprisingly, the board pointed to the language in the continuing budget resolution passed last month by Congress preserving six-day service:
"By including restrictive language in the Continuing Resolution, Congress has prohibited implementation of a new national delivery schedule for mail and packages, which would consist of package delivery Monday through Saturday and mail delivery Monday through Friday, and which would have taken effect the week of Aug. 5, 2013," the board said.
The board said it would still support ending such service once there was legislation in place that would give the USPS more power to control its destiny. But such a legislative shift seems less likely now than it did before.
The USPS, however, is still talking tough. There was some intriguing language in the board's statement that went largely unnoticed: "(T)he Board has directed management to seek a reopening of negotiations with the postal unions," it said, adding that it had also "asked management to evaluate further options to increase revenue, including an exigent rate increase."
In other words, the USPS may soon seek regulatory approval to raise prices and ask its unions for concessions. It must do something about its continuing financial crisis—the result of declining mail volume and a 2006 law requiring the agency to prepay its future retiree health benefits.
But will the USPS pursue these things, or will it back off again? It's not clear after the agency's about-face on Saturday delivery.
House Oversight and Government Reform Commitee Chairman Darrell Issa (R-Calif.), who has supported Donahoe's plan, argued that the reversal dimished the USPS's credibility with Congress. "I am disappointed that the Postal Service has backed away from plans to implement a modified Saturday delivery schedule that polling indicates the American people understand and support," Issa said. "This reversal significantly undercuts the credibility of Postal officials who have told Congress that they were prepared to defy political pressure and make difficult but necessary cuts."
Issa believes that the USPS already has the power to change its Saturday delivery schedule, because Donahoe's plan would have kept six-day package delivery in place. In February, Donahoe seemed to feel simlarly empowered when he announced his plan. After all, Congress passes language every year protecting Saturday delivery. The USPS clearly feels differently.
Today's announcement raises yet another interesting question: Why did Donahoe proceed in the first place?
Before it's here, it's on the Bloomberg Terminal.
LEARN MORE