Dude! The Battle to Become the 'Male Pinterest'
Five websites are vying for the title, one hot rod picture at a time
Eric Spitznagel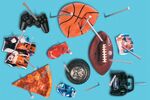 Matt Bruce, a 27-year-old education administrator from San Diego, likes beer, whiskey, and backpacking gear. He also likes the Internet. About a year ago, Bruce came across a website called MANteresting, a social network for men that resembles Pinterest, the hugely popular photo-sharing platform. Both sites feature interfaces with a grid of images and allow users to create collections of photos in preset categories. Pinterest focuses on fashion, fingernail art, and wedding decorations; users "pin" images to their "board," which can then be viewed by others. MANteresting (tag line: Interesting. Man. Things.) leans toward muscle cars, women in bikinis, and bacon pancakes; members "nail" things to their "workbenches." Since joining, Bruce has created 22 workbenches using 671 nails. "I have benches full of future travel destinations, clothing styles I like, and cool things I want to buy and add to a man cave," he says. "MANteresting connects me with images that tell a story of who I am and who I want to be."
Since its launch three years ago, Pinterest has become the third-most-popular social network in America, behind Facebook and Twitter, with more than 40 million users, 83 percent of them women, according to Engauge, a digital marketing agency. Essentially an enormous online girlie scrapbook, it has a highly dedicated membership: The average user is on the site for 89 minutes a month, compared with 21 minutes for the average Twitter user. Its popularity has inspired a number of imitators, including such sites as Pinspire and StylePin. Inevitably, testosterone-laden clones have popped up, hoping to capture the guys out there like Bruce, who really want to pin but aren't interested in Pinterest's feminine charms. In addition to MANteresting, there's Dudepins ("Cool Stuff for Guys"), PunchPin ("The Site for Men and Manly Interests"), Gentlemint ("A Mint of Manly Things"), and Dartitup ("Man Up, Sign Up, Pin Up").
"There's a market for a male Pinterest," says John Manoogian III, the co-founder and chief technology officer of social advertising firm 140 Proof. Guys also like the action of pinning—sorry, nailing—consumer goods and photos to their profiles as an act of self-expression. It's just that they prefer to do it in a no-girls-allowed environment. "Guys say, 'Gee, I think that Pinterest is only for women. I want to go where there are people like me,' " says Manoogian.
Nick Pitakos, 19, a college student in Columbus, Ohio, was drawn to MANteresting because, as he says, "it was a website where I could have it up on my laptop while out and about at Ohio State and not feel ashamed for using it." On April 19, MANteresting's home page featured pictures of "badass dogs," gluten-free caveman cookies, and an "awesome" F-Type Jaguar, among other things. Zachary Lee, 22, a college student in Fresno, Calif., avoids Pinterest because it has "too many pictures of Adam Levine's abs." (A search on Pinterest for "Adam Levine abs" turned up only one shirtless picture of the toned Maroon 5 frontman.) He's been active on MANteresting since September 2012 and enjoys the pictures of "concept cars and manly actors such as Sean Connery and George Clooney." MANteresting's home page also has pictures of semidressed women, but, Bruce points out, not as many as PunchPin, which he says "looks more like a porn site." On April 19, the most clicked image on PunchPin was a picture of Jessica Alba in a tight sweater with the poetic caption, "Jessica Alba puts holes in a turtleneck."
Brandon Patchin, co-founder of MANteresting, is proud of his site's growth. "In the last 48 hours, we had about 10,000 new accounts created," he says. "Yesterday we had 60,000 visitors, and on average we hit around 100,000 to 200,000 visitors every month." Competitor Dartitup boasts "600,000 views each month, 35,000 unique views," according to Brandon Harris, president and co-founder of the site, while Dudepins Chief Executive Officer Kamil Szybalski says his version has "a baseline that's increasing 20 percent to 30 percent every month." Brian McKinney and Glen Stansberry, the co-creators of Gentlemint, which has a slightly more refined vibe (its most popular picture ever was of an Eldredge necktie knot), will only say its numbers are "about 10 times the amount" of the competitors. These guys don't tire of sizing themselves up.
"We were the first," says Patchin, who launched MANteresting last February but claims he registered the domain the previous September. Gentlemint's Stansberry also says his site "was the first one out there." And Patchin says he received a cease-and-desist e-mail from the founders of Dudepins last September accusing him of slander after he tweeted about the rival company, referring to it as "Douchepins." Szybalski, when reminded of the exchange, says it's "water under the bridge. I wish them the best of luck."
Pinterest, which is valued at $2.5 billion, recently raised $200 million in funding and lists among its backers venture capital firms FirstMark Capital, Valiant Capital Management, and Andreessen Horowitz. (Bloomberg LP, which owns Bloomberg Businessweek, is an investor in Andreessen Horowitz.) A 2012 survey by the female blog network BlogHer found that 47 percent of women surveyed had made a purchase based on a recommendation on Pinterest, vs. 33 percent on Facebook and 31 percent on Twitter.
The nichification of the Internet is increasingly breaking down along gender lines. There are online gaming sites for women and male versions of popular women's retail sites, such as Mr Porter, an offshoot of Net-A-Porter. There are no statistics yet on how sites such as MANteresting and Gentlemint influence purchasing decisions, but men are increasingly using the Internet as a shopping tool: A study released last May by digital marketing agency iProspect said that 70 percent of affluent men (those making from $100,000 to $300,000 a year) do online research before making purchases; 40 percent shop online at least twice a week, spending as much as $30,000 annually. "For most men, shopping of any kind is mission-related," says Gary Edwards, chief customer officer at Empathica, a provider of customer experience consulting. "We know what we want, and the most an Internet provider can offer is convenience and a good price." For women, he says, online shopping is sometimes mission-oriented, but often they'll visit retail sites to browse. "That's why Pinterest works so well for women," he says. "It's a great venue for browsing. Not to be too stereotypical, but men don't browse. They hunt."
Brandon Harris, at Dartitup, is hoping to get in on the kill. In mid-May, he plans to launch a beta site called GuyRacks, a revamped Dartitup focusing on fashion and accessories. The idea originated, he says, from his partnership with San Francisco content monetization company VigLink. "We earn money whenever someone clicks an item on Dartitup and actually purchases it on the respective retailer's website," he says. "When we realized this was a viable revenue stream, GuyRacks was born." Members of GuyRacks (called chaps) can save or comment on their favorite "racks," outfits created by fellow members or pro stylists, and then buy the clothes directly from the site.
Pinterest, which doesn't charge a membership fee or have revenue-generating advertising, has yet to make a dime, and its male cousins are even further away from profit. Dartitup's Harris has had limited sponsorship deals with companies including VitalGrill and brands such as Slim Jim, but such transactions are rare. "When you start talking to some of the bigger organizations, it's hard enough for marketing teams to get their legal departments to sign off on using a website like Pinterest to promote products," he says. "For a site like ours, which is mostly unproven, it's almost impossible." Gentlemint's McKinney acknowledges that they, too, "haven't found a great way to do advertising. And we don't want to jump into anything too quickly just to get some fast cash," he says.
Would Pinterest ever acquire a Dartitup or MANteresting? "We generally don't comment on the clones," Pinterest spokeswoman Mithya Srinivasan said in an e-mail. But Manoogian, at 140 Proof, thinks it's unlikely Pinterest will buy out the competition. "Pinterest could very easily say, 'You need Pinterest for guys? Here, we'll give you one.' If they launch anything called Pinterest for Guys, it'll get a million views just out of curiosity."
It remains to be seen if men will stay on a scrapbook site filled with pictures of beer bottles and masculine leather chairs. MANteresting member Michael Whitt, 40, of Paducah, Ky., isn't so sure. "I see it as more of a got-a-few-minutes-to-spare type of site," he says. Zachary Lee disagrees. He's become such a big presence on MANteresting that he was recently promoted to site moderator. He's now able to make judgment calls on content, eliminating anything he thinks is offensive or not safe for work. He's gotten rid of "excessive cleavage," he says, "and nails that are just plain not manly."
Before it's here, it's on the Bloomberg Terminal.
LEARN MORE