What's Jamie Dimon Going to Do With a $2 Million Park Avenue Office?
By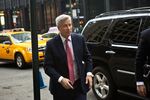 Jamie Dimon, the once flawless and still mostly favored Wall Street titan, just snapped up a $2.05 million "maisonette" on the ground floor of his Park Avenue apartment building. The 2,600-square-foot space used to be a doctor's office and is zoned for commercial use. Is it a coincidence that Dimon has purchased this lovely office at the precise moment JPMorgan Chase shareholders are considering whether to strip him of one of his titles? Or is he making plans for his next empire?
He's not saying, but we've got a few ideas.
Martini Bar
Dimon's former deputy Ron Seiffert told Bloomberg Markets that the Wall Street titan likes to knock back a couple of martinis—particularly after a tough day. What did Dimon do after he got home from a world-on-the-brink meeting at the Fed in 2008? Broke out the cocktail shaker.
Boxing Gym
When Dimon was shuffled out of Citigroup in 1998, he spent part of his downtime—some 16 months—taking boxing lessons. No wonder he fares so well at Senate hearings. Sweet science indeed.
KFC
Before he was a director at the Fed, Dimon was a board member of Yum! Brands from 2002 to 2004. If he can run Chase, he can probably run a fast-food franchise.
Personal Trading Floor
The new digs are big enough to hold a whale—ba-dum-bum. Honestly, though, Dimon would not be the first Wall Street executive to hire a team of traders to play with the house's money—in this case, the Dimon house.
Election HQ
Dimon has repeatedly denied speculation that he will run for office. But no one denies that he gives good speech—the kind of tough, insightful, and unvarnished prose that PACs clamor for. He's already done a Heartland bus tour. And Dimon hasn't exactly raved about the Obama Administration's economic and regulatory policies.
Fixer-Upper
The median price of a Manhattan apartment surged 5.9 percent in the past year. And with a 34 percent drop in the number of properties on the market, it's poised to go higher. No doubt, Dimon got a sweet interest rate. He has the jingle to pay cash, but why not lever that cheap money?