The Mystery of China's Export Numbers
By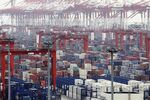 Are China's export numbers for real? That question is flaring again, as Beijing prepares to report its March trade numbers on April 10, with 11.7 percent growth in exports and a 6 percent rise in imports expected, according to a Bloomberg survey of economists. "The recovery in exports is there, but the magnitude probably is much weaker than the official data [have] been indicating," says Zhu Haibin, chief China economist at JPMorgan Chase. Export growth "sounds too strong for me," according to Zhang Zhiwei, Nomura's China economist. The figures "look a bit weird," adds Alistair Thornton, economist at researcher IHS, reported Bloomberg News.
The doubts took off following the unusually—and for many, unbelievably—strong numbers reported for overseas shipments in recent months. Exports grew 21.8 percent in February, compared with 25 percent in January, despite continuing trouble in the euro zone and a still fragile global recovery. In each of the previous three months, exports have come in at least 7.5 percentage points above what economists had predicted.
So if the figures are fudged, how is it happening? One popular theory is that inflated export numbers are being used to siphon capital covertly into China, perhaps to invest in the hot property market or to take advantage of a rising yuan. The way it would work: a Chinese exporter inflates the value of the goods it sells abroad. This inflated amount is entered on the invoice that records the transaction. The other party—the one receiving the goods—then pays the amount falsely added to the invoice into the exporter's overseas account. The amount paid into the exporter's overseas account may actually be the exporter's own money or the money of an associate of the company.
Whatever the case, the exporter then submits the invoice to Chinese government officials, who permit him to change the money earned abroad (usually dollars) into yuan—including a sum above the amount he may have legitimately earned from selling goods. "It is possible that some of the trade flow disguised capital inflows—such that trading companies may overstate their exports and understate their imports in a bid to circumvent capital controls and bring capital into China," wrote Nomura economists Zhang and Wendy Chen in a March 8 note. "Indeed, net capital inflows appear to have been very strong in January as foreign exchange purchases hit an historical high at RMB26.5trn [US$4.272 trillion]."
Also notable: the fact that even as China has reported its stellar numbers, neighbors South Korea and Taiwan have seen a decline in exports. China watchers wonder how China can be experiencing a surge in overseas sales to the U.S. and Europe, up 16 percent and 17 percent, respectively, year on year in February, when other exporters are suffering. With "weaker export growth from both Korea and Taiwan … we had expected China's trade data to follow suit," wrote the Nomura economists. Even odder is the substantial difference between what China reports as exporting to Hong Kong, one of its larger trading partners, and what Hong Kong says it buys from China. In February, Beijing reported exports to the city were up 35.6 percent, while Hong Kong said imports from China dropped 18 percent. "Before the data followed very closely. Only last year have they been divergent," says Tao Wang, chief China economist at UBS Securities, who points out that 15 percent of China's total exports go to the city. She estimates that actual exports may be several percentage points below official figures, but she notes: "this does not take away the fact that Chinese exports are recovering—and the single biggest driver is recovery in the U.S. economy."
Finally, another reason why exports may be inflated: companies faking trade transactions to take advantage of government tax benefits designed to aid exporters. This may explain, too, why China's bonded trade zones—which have looser requirements when it comes to registering foreign trade—have become a much more significant part of total exports. "It's easier for companies to get tax rebates through bonded zones," notes UBS Securities' Wang. Says Louis Kuijs, chief China economist at Royal Bank of Scotland in Hong Kong: "Usually these bonded areas don't matter very much and would not contribute more than 1 percent to export growth. But in the second half of last year, that contribution grew to five percentage points and to 7 percent by the end of February." Kuijs estimates that February's export numbers may have been overstated by seven percentage points.
The "external environment for China's foreign trade is still faced with a lot of uncertainty, unstable factors, and the pressure to expand exports," cautioned China's new commerce minister Gao Hucheng, in an interview with Chinese state media on March 21. "Our task of foreign trade this year is to stabilize external demands, accelerate the transformation of foreign trade as well as structural adjustment … and achieve the goal of foreign trade growth rate not lower than that of GDP." On Wednesday, April 10, we'll find out if the eye-popping export numbers from China continue—or if they revert to a normal level.
Before it's here, it's on the Bloomberg Terminal.
LEARN MORE